5 Reasons To Include Drinkware In Your Promo Kit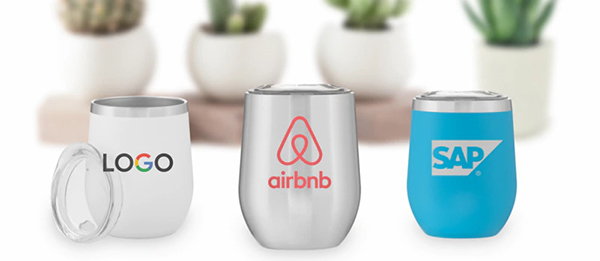 Why give away one promotional item when you can give a whole package? In 2021, custom kits are growing more than ever as one of the best ways to keep your customers excited and grow your business. The options for what to include in a custom kit are endless. Multiple factors must be considered, including:
The event or occasion: a trade show, onboarding, company event or other reason
The individual or group receiving the swag: demographics and whether they are employees, current customers or another group of people
The intended outcome you hope to get from gifting the swag: building enthusiasm, driving sales, promoting a new product, or something else
Promotional items are 2.5 times more effective than internet ads. 80% of people own around 10 promo products, and 53% of those use a swag item at least one time weekly.

Whichever items you choose to send in your promo kit, one foolproof item is a branded stainless steel travel mug. Insulated mugs work for all brands, all people and all occasions. Sending a travel mug as part of a promo kit shows you're going above and beyond the basic promo items like pens and notebooks, that you value the customer, and that you've taken the time to think.
Promo items also give more ROI, due to both customer loyalty and increased impressions. 57% of consumers can remember the advertising messages on products, while only 32% remember messages from traditional media advertising. 41% of the recipients of promo items will still have them up to 5 years later, and 18% of customers will keep them for more than 11 years.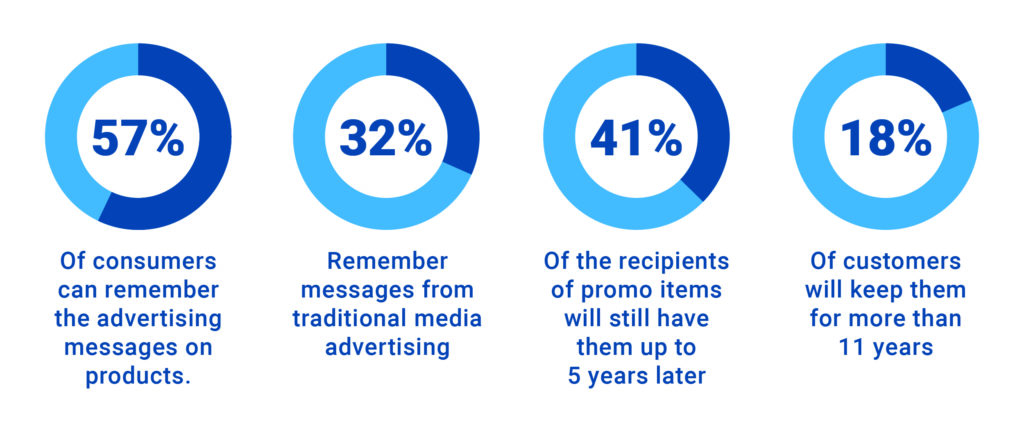 Here are some reasons to include an insulated mug in your swag kit:
1. Everyone needs a travel mug.
Insulated travel mugs are perfect for anywhere a person goes, whether that be work, school, travel, errands out or sitting at home, outdoor activities, and more, and who doesn't drink coffee, tea, water and other drinks? We all need to stay hydrated every day, making this the perfect promo kit addition.
Stainless steel does not rust, stain, puncture, or produce condensation, plus they last forever. They're great for any season, keeping drinks hot or cool for hours at a time. They're reliable and durable – just the message your company wants to send. 70% of people keep promo products based on quality, 48% on utility, and 29% on attractiveness.
Impressions from insulated mugs will pay off because people probably spend more time with their drinkware than their friends and family. Their mug is with them on their commute, at their office desk, at home and even on vacation, where the logo is prominently displayed for others to see.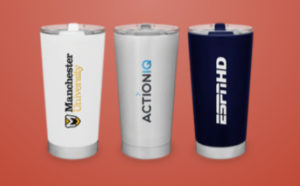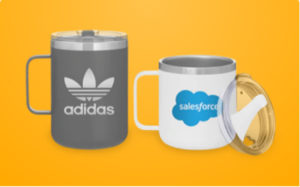 These insulated camper mugs are fantastic for all occasions, but perfect for camping and travel since they have a handle that can clip onto a backpack.
Is it summer – or anytime of year, since people always need to stay hydrated? You can choose one of these water bottles that primarily keep drinks cold: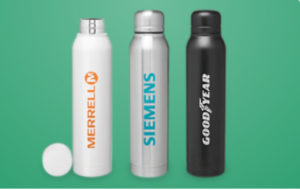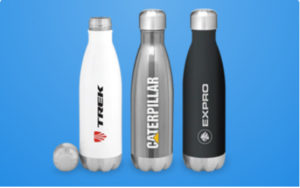 2. Insulated mugs are eco-friendly and safe.
These mugs never have BPA since they're made with stainless steel. They also last, reducing waste caused by disposable and cheaper options. Why does this matter, beyond the fact that it's important for the environment? The ASI global ad impressions study found that companies gain higher opinions of 42% of consumers with eco-friendly promotional products.
For employees at work, saving one single-use cup per day for one person for 40 years saves 24 trees. Eco-friendly drinkware saves carbon dioxide emissions, wood, petroleum and other chemicals, which is healthier for both people and the environment.
3. Promo stainless steel mugs leave lasting and profitable impressions.
According to the ASI study, 78%-88% of people own promotional drinkware. Another study found that 91% of consumers had at least one promo product in their kitchen at any time. Why should their drinkware not have your logo on it? Drinkware has an average of 1,400 impressions in its lifetime, which is an average of 12 months for how long most people keep the mug (and if they give it away, which 54% of people do, that lengthens). The Cost Per Impression (CPI) of drinkware that costs $7 is less than 0.5 cents.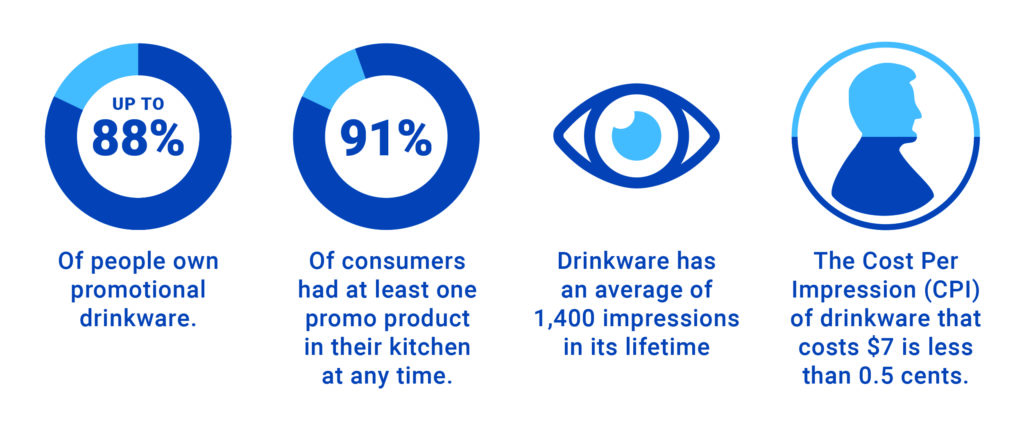 For employees getting promo products, 59% of them said they had a higher opinion of their workplace when given these kinds of gifts.
Companies giving branded promo products gain business with 85% of the customers who received the gifts. Out of consumers questioned, 89% had received a promo gift in the last half year, and 79% researched the brand based on the product. 83% of the consumers said they were more inclined to buy from the advertiser who gave them promo products.
4. Mugs are perfect gifts for all ages.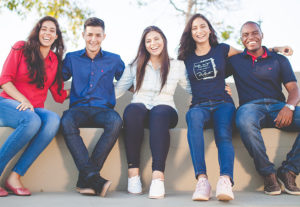 You really can't go wrong with an insulated stainless steel mug in a promo kit, because all generations love them!
Millennials own an average 30 promo products per person.
Gen Xers own an average of 34 promo products per person. 71% of this generation is more likely to do business with the company.
Boomers own, on average, 28 promotional products per individual, and 84% of boomers own promotional drinkware. They love promo products with important messages the most.
Gen Zers love promo products that have pop culture and trendy references.
A whopping 91% of people keep mugs and other promo products in their kitchens. 90% of people remember the brand when they see it again once they've received a promo product.
82% of people think of the brand more highly when they've been given a promo product, making this method of advertising the most rewarding from all ages.
5. Including a mug in a promo kit means multiplying impressions, engagement, positive opinion and ROI.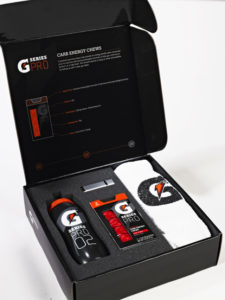 Consider all of these statistics about promotional products, and multiply them! If the customer isn't using their travel mug, chances are they're using another product included in their swag kit, such as their portable charger or USB drive. Now, consider what happens if they're using both at once – you'll get double the impressions, plus a more positive view of the business since the person clearly isn't afraid to use multiple branded products at once!
Let's say the customer doesn't like an item in their kit. Since almost all people will keep at least one promotional product, your chances of having impressions from this person also multiply. Plus, the products they don't want are more likely to be given new lives: 79% of people give promo products away that they don't want.
When designing a promo mug and other products for gifts, personalization is important, so you'll want to think about your key demographics, or even design for each group of people. If you show that you know your customers, they will love you right back! Promo products like mugs can be gifted to employees, customers, at trade shows and more and for any occasion to increase visibility and likeability.
When the product is designed with the recipients in mind, they get a product that doesn't feel like advertising so much as a personalized gift. The usefulness and durability of products such as insulated, stainless steel mug will be used and loved by your customers since these are the qualities shown by research to be what people want. Since 99% of people report that they will go out of their way for free swag, and actually have even done so in the past, your promo kit will pay off. Consider adding promotional drinkware to a tech kit and more, as part of a giveaway on social media, or as a thank you to employees and customers.