8 Best Gifts For Your Board Member Friends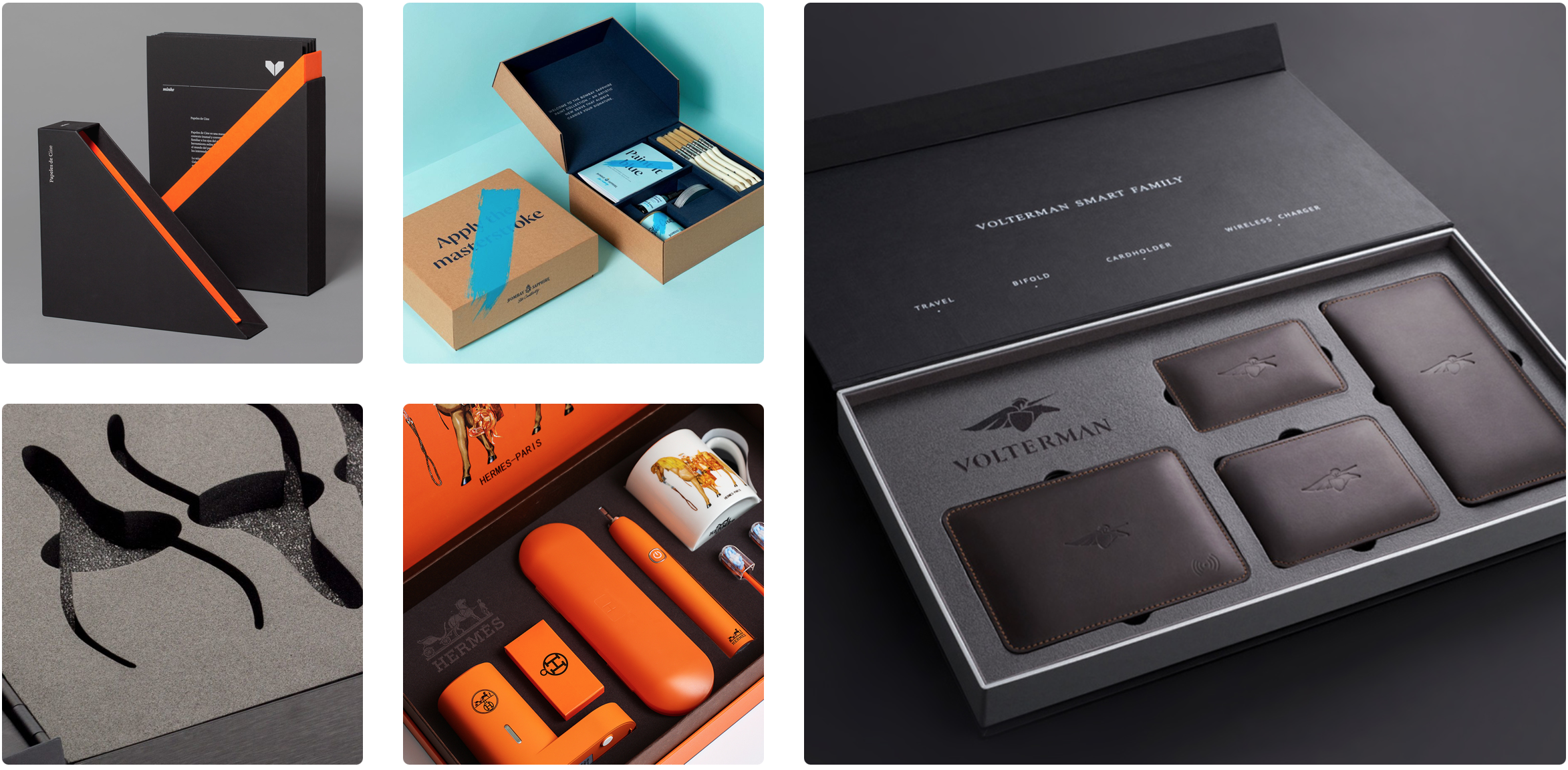 Want to know the best board member gifts for your company or nonprofit? We've curated a list that includes unique, universal, classy (and affordable) ideas for you to make your life easier, and your board member friends excited about their gifts.
Choosing a gift for board members can be difficult, and we know how much effort you put into finding something meaningful for those who make your business run smoothly – that's why we created this list. Every one of these items can be personalized as well, so you can add even more meaning to an already thoughtful gift. Use this guide for some fantastic ideas and to spark your imagination for all the possibilities!
Let's get into it so you can start gifting!
Things You Should Consider Before Buying Corporate Gifts for Board Members
Thinking about gifts requires more than just clicking away blindly to purchase the first thing that comes to mind, right? Here are some things you may want to think through before you decide what to buy your board members: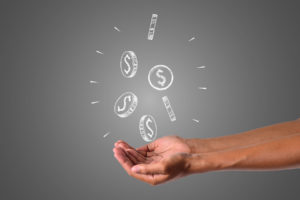 Quality and cost
Decide on your budget for gifts. This may differ depending on your company and your board members themselves. You'll need something cost-effective and worth actually giving someone. You want the gift to be reflective of your gratitude, as well, so try to match that the best you can, and you'll pick something they'll love for sure! Don't forget that a little personalization goes a long way.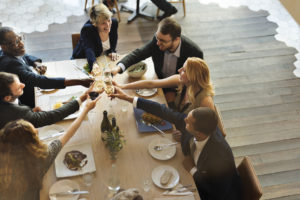 Occasion
What's the occasion? Think about the venue and if there will be an audience – is this a party setting, a fancy dinner, or a private meeting? Is the gift being given for a company anniversary, a milestone, or a personal achievement of one board member? The gift should match the occasion and the person.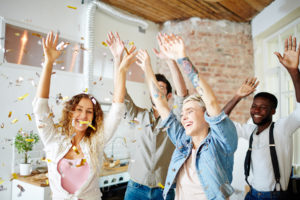 The reason
What's the mood of the gift? Are you giving gifts at a holiday party? If so, choose something fun and light. Or, is it a 20-year anniversary of your most dedicated member? That's a bigger deal and deserves a bit more effort.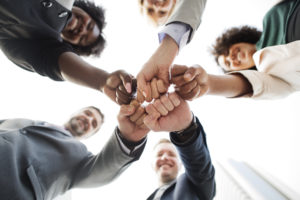 Your relationship with the member(s)
Are you close friends with the board member(s) you're gifting? Also think about what you know about them, questions such as: is she a tech person? Someone who likes to read physical books? An adventurer always found on his boat? Make sure the gift reflects the person, and that it doesn't ignore your relationship with them personally.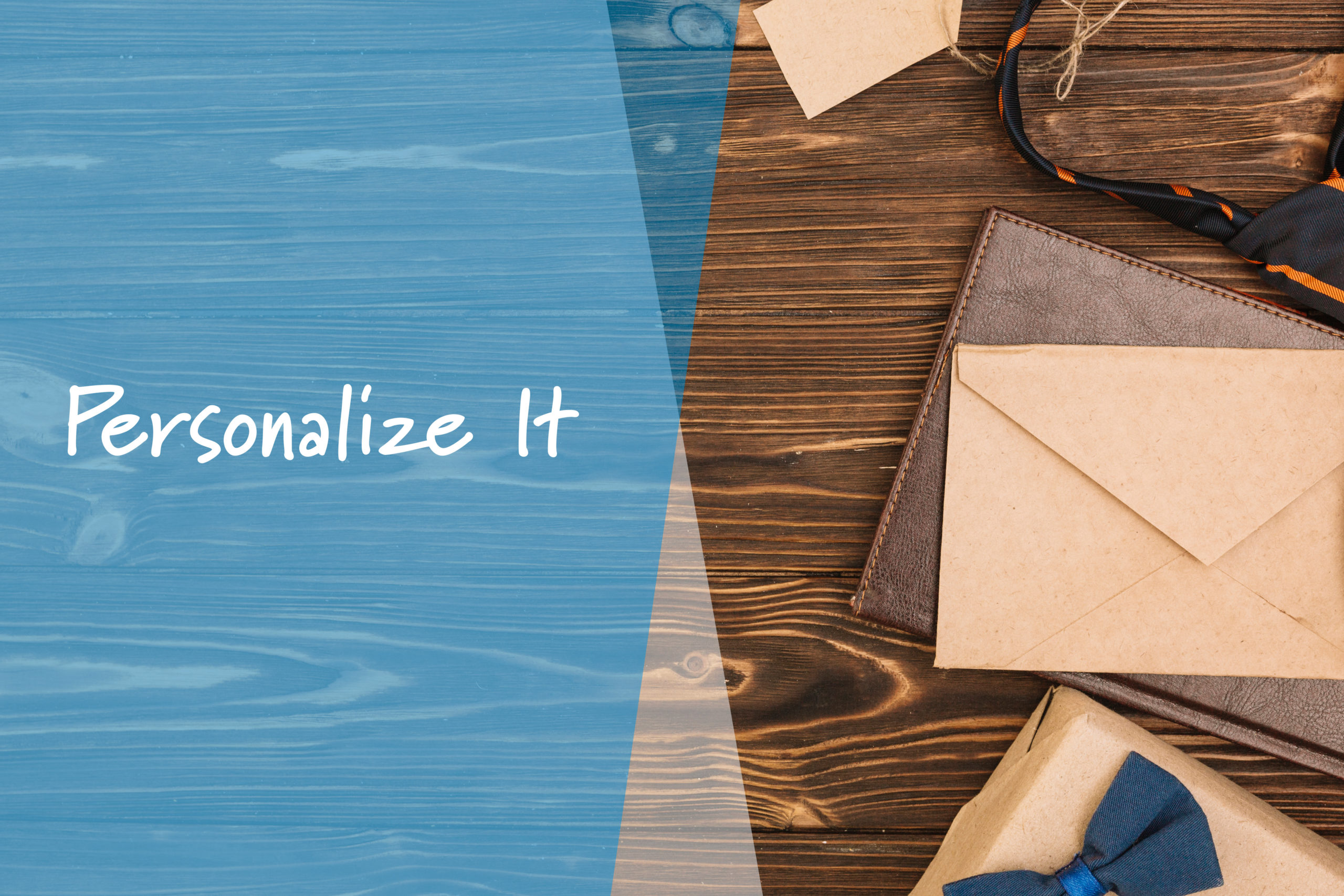 Making sure it conveys emotion
No one wants a stone cold, corporate looking gift when they're a volunteer, or someone who is extra dedicated to the company. Make sure you personalize with things like:
Thank you cards: this can be from yourself or multiple people in your company;
A letter: if it's something like a 20-year anniversary, take some time to handwrite a letter reminiscing and sharing your gratitude;
Something that shows you know them: the gift can specifically apply to their love of horseback riding, or you can use themed wrapping paper or a card. This will add more value than you realize – the board member will feel seen and cared for.
Add custom packaging: Make the experience of receiving and opening the gift even more memorable with custom packaging, available when you purchase one of these gifts.
You can buy each board member a specific gift that completely fits the person, or you can do a custom kit that will include a group of items. Some items are pretty much no-brainers; they're universally useful and valuable to people. If you include multiple items, there's more chance you'll make the most people happy with something in the box. Plus, who doesn't love opening a gift with more than one thing?
Now, here are 8 gift ideas that are sure to let your board members know you appreciate them:
8 Best Corporate Gift Ideas That Board Members Will Love


If you're going to buy mugs for your board members, make sure they stand out from the crowd! These mugs have so many things going for them, your board members are sure to love them (and you) and get years of use from these super-mugs. These explorer mugs are stainless-steel and copper-vacuum insulated for 12+ hours of temp control, plus they come with a tight-locking lid and handle, so people can use them everyday and travel with them on trips, to work and even camping. They also have a cork base, meaning you don't need a coaster to set them down on nice surfaces. These mugs can be personalized with color, text and image, and are available for next-day delivery as well. CustomUSB is even available to help with personalization and design if needed.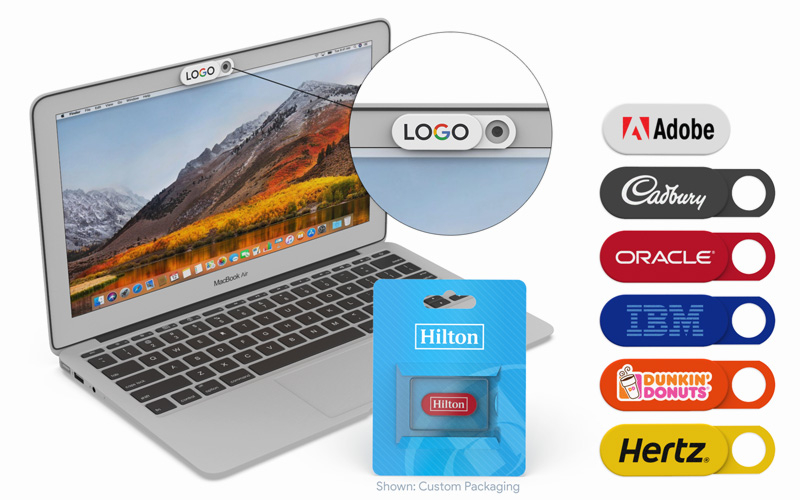 Since everyone is doing Zoom meetings and video calls with family and friends these days – a trend that's not going anywhere – a high quality, light-up webcam is a perfect gift for people who work and talk to others (so, everyone). You can personalize these from CustomUSB with a message or image (and CustomUSB can help with design), so your board members will remember who it's from and the special meaning behind it!
Anyone who uses Zoom or chats on video with friends and family will love this, but if someone barely understands technology, it may not be for them (unless you include it in a custom kit, in which case they can re-gift it). Get this webcam delivered as soon as the day after you place your order.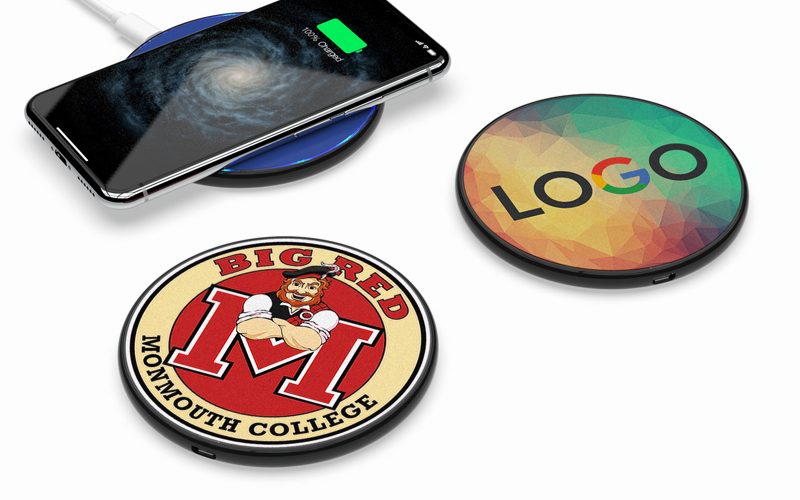 Personalize a sleek wireless charger with a full-bleed photo or design for board members, so they can charge their phone easily and in style. This charger is perfect for home, office and travel because it's small and lightweight. Plus, it's sure to get compliments because of its shiny veneer – choose from square or round shape, and glass or plastic top material.
Anyone who owns a smartphone can use a wireless charger. If people haven't yet upgraded to a smartphone that can use this charger but have an older smartphone, they can purchase an adapter, or wait until their upgrade to be able to use this charger. CustomUSB is available to help with design if needed, and this product can be ordered for as early as next day delivery.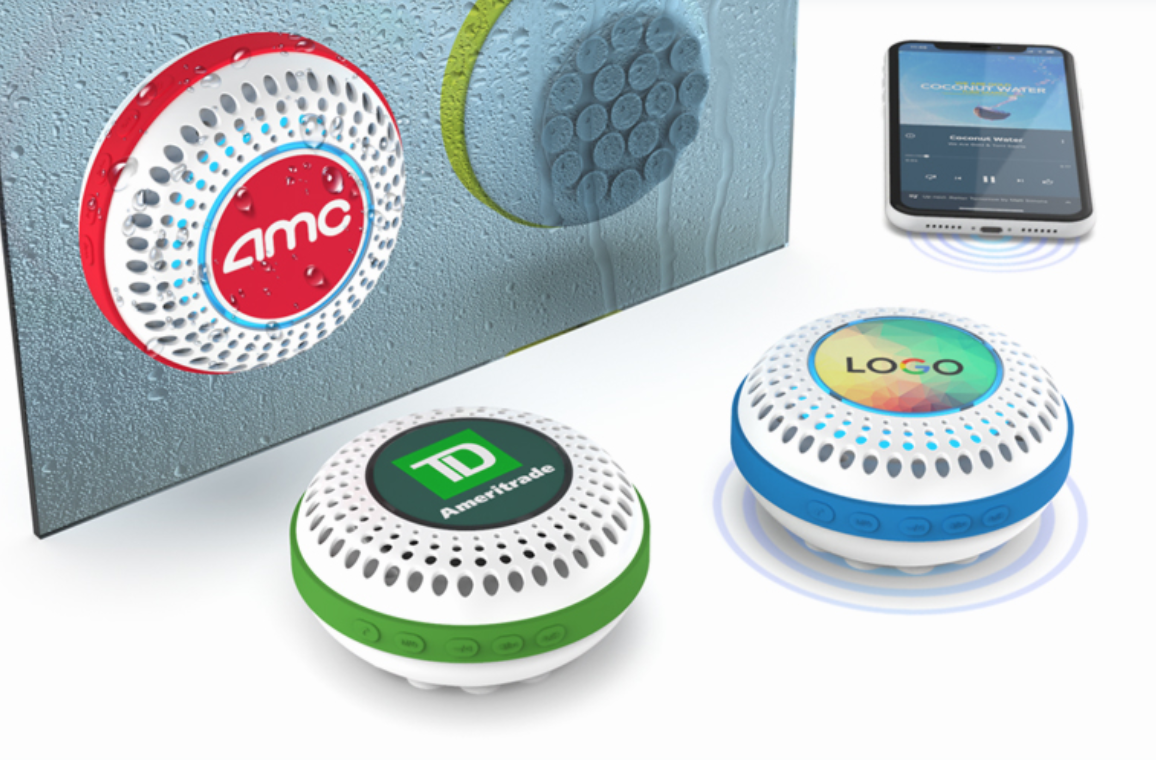 Nearly everyone can use speakers these days, since we all listen to things from our computers – video chats and meetings, streaming online shows, and more. This speaker is waterproof, so it can be used anywhere with water – like in the shower or at the beach – meaning that even if your board members already own a bluetooth speaker, this one will be appreciated and used as well. Everyone loves useful tech that can make their lives better, right? Plus, you can personalize this speaker with a message or photo to help them remember how much you appreciate them! CustomUSB is available to assist with design, and this item is available for next-day delivery as well.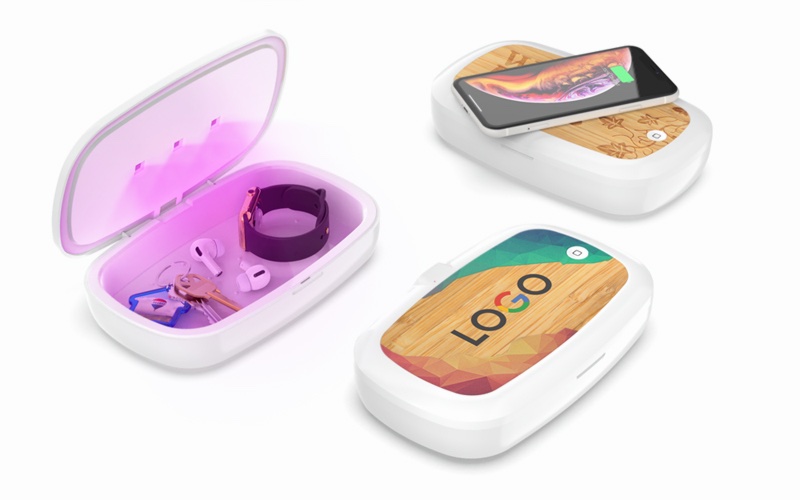 According to State Food Safety, the average cell phone has 25,127 bacteria per square inch… why not give board members this handy UV phone sanitizer so they can easily clean their phones and other daily objects like earbuds and keys? It's a way easier method than using a wipe, and it kills all kinds of bacteria (more than just the kind UV is known for lately). These work by placing the phone and/or objects inside and closing the lid, letting the UV light do the cleaning for you. This case doubles as a wireless phone charger, so just place a smartphone on the top for easy on-the-go charging – no cables necessary! This case can also be personalized, and CustomUSB is here to help with design needs and next-day delivery.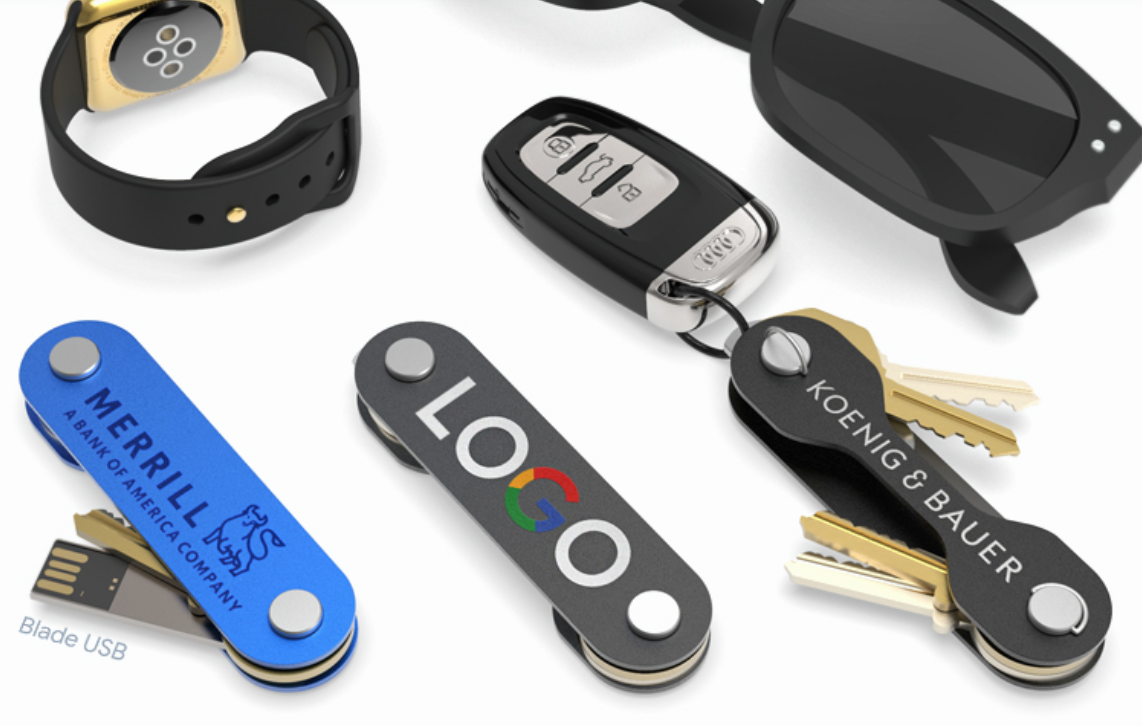 Give board members a great new addition to their everyday life – a keyholder that actually holds keys and keeps them from rattling and poking. It's lightweight and can hold up to 6 keys, plus more with the included extender. It's also easy to add an outside keyring for a car key, and even includes a bottle opener attachment. Just add your message, image or personalization (like the person's name or initials) to make a memorable gift. This item is available through CustomUSB, meaning assistance is available for design needs and you can get delivery as early as next-day.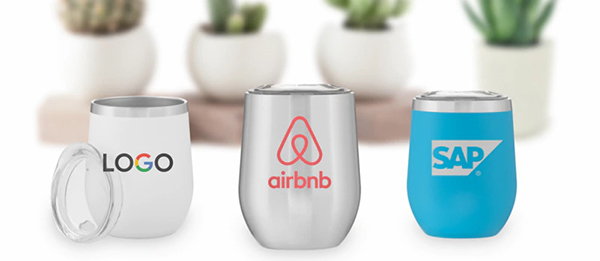 For all the wine lovers and wine drinkers, get them a gift that isn't just a bottle of wine (though you can include one and they'll probably love you even more). Gift this personalizable wine tumbler for something with a memorable message or image, and you can even group it with a bottle of wine for a wine-themed gift basket. The wine tumbler is from CustomUSB, meaning we can help with any design needs and deliver as soon as you need it.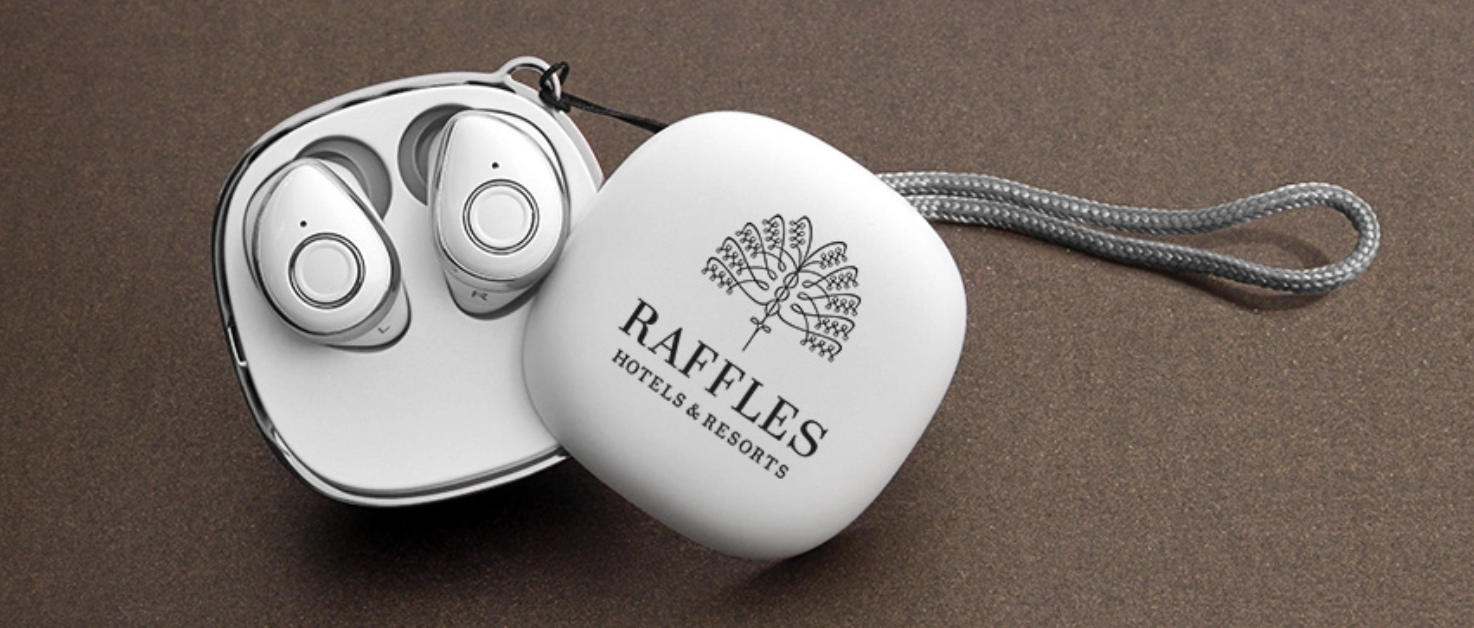 These classy, high-quality earbuds are sure to become board members' new go-to pair due to their ergonomic design and quality sound. They're specifically designed to be worn for long periods of time and even feature dust and sweat-resistant technology so they can be worn during workout sessions. They provide excellent sound quality and include HD sounds and bass boost. They come with a carrying/charging case as well, and both the earbuds and case can be personalized. They come with extra silicone ear pieces, a USB charging cable, a felt carry string bag and a nylon wrist strap. CustomUSB's design team is ready to assist with any design needs and this item is available with next-day delivery.
Conclusion
When buying gifts for your board members, we know you want to make an effort and truly express your gratitude for all their hard work – not to mention, finding ideas on a list online from people who don't personally know your board members! It can be really difficult to find something that each board member will find useful and enjoyable. That's why we handpicked these gifts that are fun, super useful, affordable and unique. Plus, the majority of these gift ideas are personalizable, and when you include messages, personalization unique to your board members and images, it adds extra meaning and remembrance to the gift. You can really impress your board members when you show them how much you appreciate them, and we hope you can do just that using this handy list!