Canadian Club Bottle USB Drives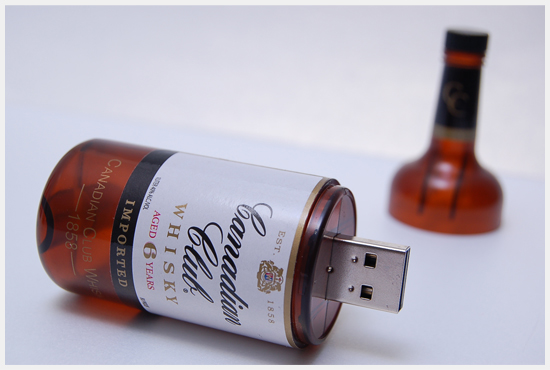 We can't say no to our customers, so when the good people at Canadian Club came to us, of course we agreed. Everyone, let's welcome the Canadian Club Bottle USB Drive.
Here are spme details about this order:
These 1GB drives were produced using our Plastic Injection Molding process.
Pre-production sample took about 10 business days. Final order took about 40 days to produce.
Each bottle was molded out of translucent brown plastic. The cap was made out of opaque black plastic to replicate the real Canadian Club bottle cap and attached as a separate piece.
Each bottle was printed with a gold "Canadian Club Whisky 1958" artwork and had an authentic label applied to the body and neck.
See attached images for full details on this order (from start to finish). Images include initial drawings, size specs, pre-production samples, hand-made tooling photos, and photos of the finished product.
Enjoy. And oh yeah, contact me to make some of your own (in a different shape, of course).