Project Objective

CustomUSB wanted to design and fabricate a retail USB drive emblematic of the HBO hit series, True Blood. The intention was to give fans a piece of memorabilia they could enjoy for years to come through a realistic — albeit mini — replica of the iconic Tru Blood beverage.
HOW WE DID IT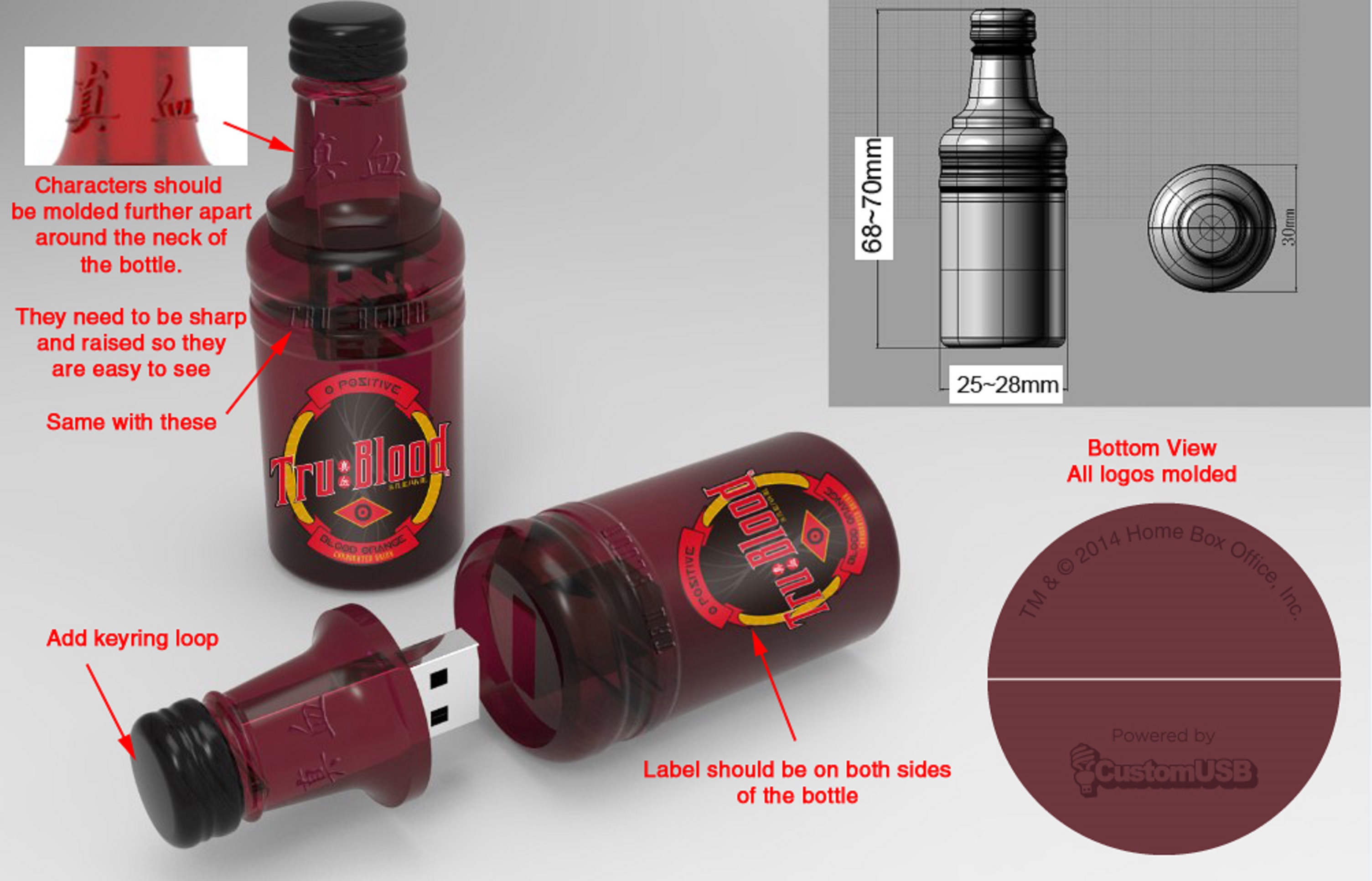 Methodology
The project kicked off with the design team settling on the very product from the show's namesake — the Tru Blood beverage. We set our sights on building exact replicas of the original bottles, which meant incorporating subtle details like flavor names ("O-positive" and "Blood Orange"), along with the Japanese markings (the Japanese engineered the crimson beverage). With the overall look established, the team had to work out the USB placement. For authenticity's sake, just as you would crack open a refreshing bottle of synthetic blood, we decided the USB should be accessible through similar means. Hence the removable top.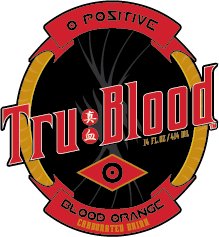 Licensing
Without licensing rights from HBO, this project wouldn't exist. The licensing process required collaboration with HBO's team, to make sure design and packaging met their expectations. And because our respective teams quickly came to a consensus about aesthetics and such, it enabled CustomUSB's creative and manufacturing teams to breathe life into the concept without delay.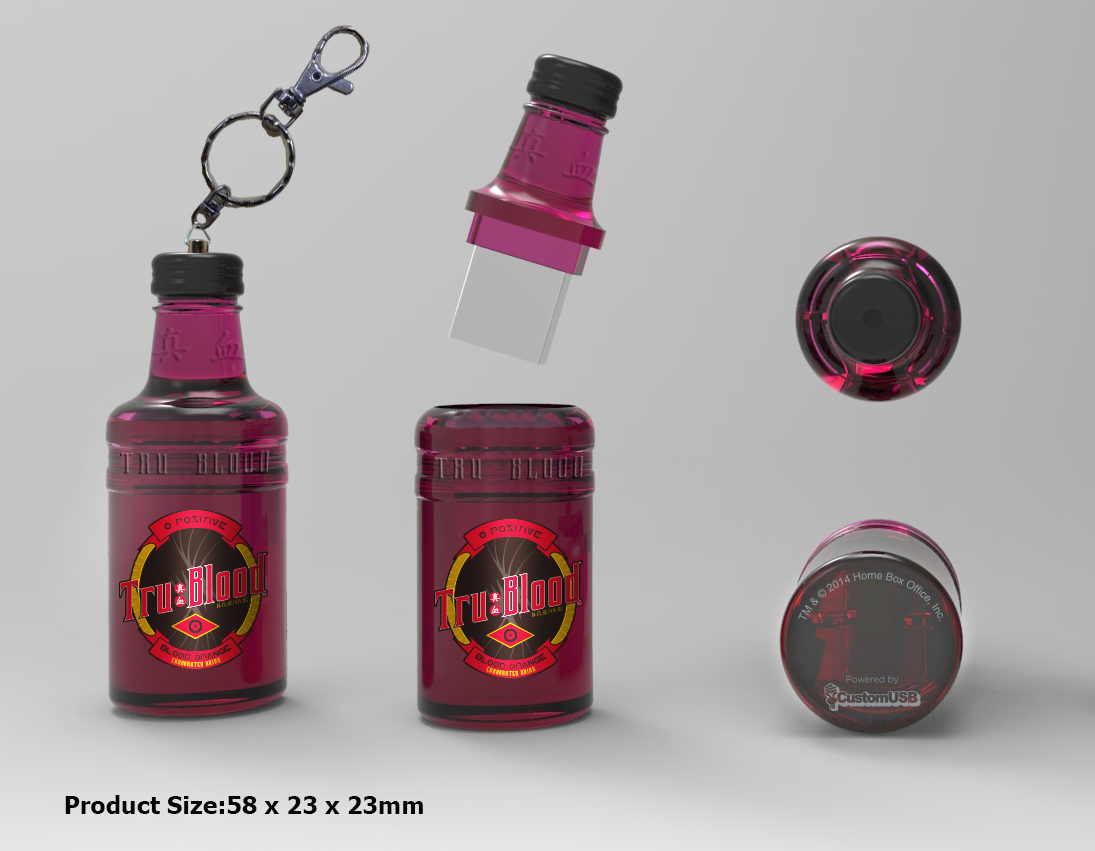 Materials
For materials, we utilized polycarbonate because it was the perfect material to create our transparent red bottles. Polycarbonate is a strong and durable plastic, making it ideal for extended use.
---
FINAL SPECS
Project
Weight: 0.035 lbs
USB: 2.32 in x 0.87 in x 0.87 In
Durable, waterproof, removable USB drive
Materials
Polycarbonate
Metal
Cardboard packaging
Performance
Memory: 16GB
Interface: Hi-Speed USB 2.0
---
Client Feedback

"Basically, CustomUSB is a great store that offers some amazing products at a fair price. All of these items not only met our expectations but far exceeded them. These products are perfect for fans of Game of Thrones, Silicon Valley, True Blood, and Firefly, and should be strongly considered by all."

-Iggy, Project-Nerd.com
FINAL PRODUCT GALLERY
True Blood first aired on September 7, 2007, and lasted for seven seasons.

Twist off the top to get a taste of innovation with this piece of memorabilia.

All the digital ingredients minus the mess.

Japanese markings found on the original bottles.

The final product and its cardboard packaging.
---
Final Description
These Tru Blood replica bottles are blood red and include all of the text and bottle markings as the bottles seen on the show. They contain a hidden, high-quality USB. And since we know it can be a pain in the neck to lose your USB, we included an attached key chain for your convenience. This drive comes in cylindrical cardboard packaging with the red and white True Blood logo at the bottom.
Results and Impact
Positive customer reviews, in addition to positive product reviews by the likes of Project-Nerd.com as well as popular YouTuber, Starslay3r, to name a few. We also received praise for fair pricing.
Created 2,000 units in May 2014.
The team was thrilled with the results of this USB release, the sales and interest generated as a result of the project.
Encouraged our team to continue creating more licensed custom USBs inspired by pop culture.