25 Trade Show Giveaway Ideas for 2022 To Make the Best Impression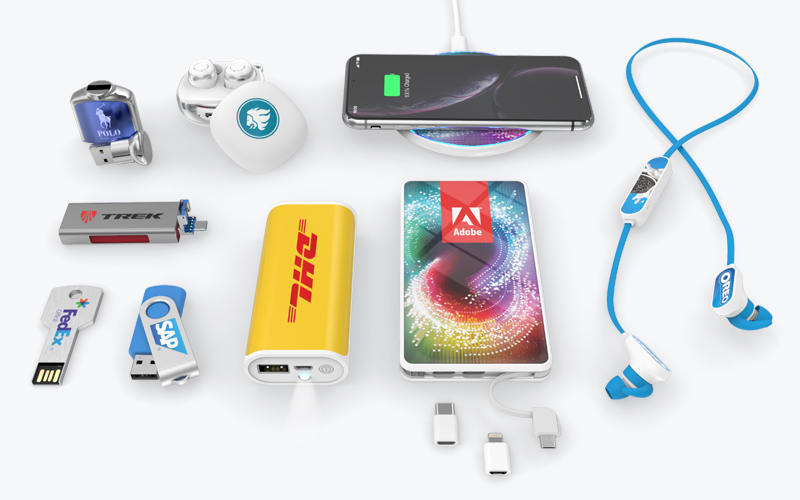 Trade shows are one of the oldest marketing methods that remain one of the most irreplaceable strategies today. The value of being in person, at an industry-specific event, just can't be replicated; in fact, 99% of people surveyed who exhibited at trade shows agree.
At a trade show, standing out is key. The best way to stand out and be remembered is to give out promo items. This article will list trade show giveaway ideas to help you stand out from the crowd and generate more leads at your next trade show.
What is a Trade Show?
Trade shows have been an integral part of the business world since the Champagne fairs in late medieval Europe, and continue to be one of the best ways to gain connections, customers and to learn about one's industry and competition.
A trade show is usually hosted by the trade show association of a particular industry. The event gives businesses a chance to display their brands along with speaking engagements, breakout sessions and opportunities to network in a typically invite-only setting. Usually, trade shows are hosted in large cities, in big conference centers and last for a few days.
What are the Main Purposes of a Trade Show
A trade show exists for a number of purposes, including:
Build brand awareness

Being able to showcase your business, talk about your goals and accomplishments, and more with key people in your industry and the media, all in one place and in person, is invaluable.
Gain new leads and prospective buyers

Talking to potential customers face-to-face at a trade show is a dream scenario: you just set up a booth at the event, and voila! Leads appear before your salespeople – the perfect recipe for gaining new business.
Talk face-to-face with existing clients and earn more business with them

You can know who you want to talk to for sure before the event, because trade shows are directed at specific people who must be invited to attend.
Relationship building and networking

Meeting people in your industry at a trade show is the ideal way to network because you're all in one place together for a number of days.
Checking out competitors

This is a great opportunity to see what competitors are doing – angles they're taking, what they're doing right and wrong, and more.
Showing off your business services

Creating an interesting, unique display booth, having amazing giveaways to draw people in, and sending skilled salespeople to work the booth will allow you to show off your company at its best.
Showing new products or services

If you have something new, you can promote it, offer sales, and even let people try it out to create buzz.
What Happens at a Trade Show?
Trade shows have large rooms that house the display booths and people. Networking and selling are a major part of what happens at trade shows. In addition, most trade shows have sessions and ceremonies to help people get even more out of the money they spend to attend. Here are some things that happen at trade shows:
Exhibits

On the exhibit floor, companies have booths with salespeople showcasing their goods/services and networking.

Workshops and breakout sessions

Anything related to the industry can become a session or workshop that people can attend to continue education.

Speakers

Speaking engagements are an excellent way to bring more visibility to your company.

Awards

Award ceremonies are part of many trade shows to recognize people in the industry.

Press and Media

These events are a great time to get in front of the press and talk to them about your business and what it provides for people.

Networking events and parties

Usually, there are special events and even parties just for networking and socializing.
25 Unique Trade Show Giveaway Ideas for 2022 
 1. Hand Sanitizer
Everyone has needed hand sanitizer more than ever the last couple of years, making it one of the most popular trade show giveaway items. It's also a great promo item because people will take it out and use it during the event with all the shaking of hands going on, so people will be looking for your booth when they see your logo on the bottle!
Starting at $1.36 per item
2. Custom Power Bank
If you really want to stand out and give people something usable and valuable, high-quality custom power banks are the way to go. Everyone needs one, and since many people travel to attend trade shows, this will help them when their phone battery starts to get low during a breakout session. Plus, they'll continue to use it at home, spreading your brand message everywhere they charge their phone.
Starting at $14.16 per item
3. Water bottles
Water bottles are one of those items everyone can use, and are beneficial during the trade show itself. Whenever people drink out of their bottles, they'll spread brand awareness for you with your logo printed front and center. They're also lightweight, easy to carry around and easy to carry back home from the event.
Starting at $10 per item
4. Customized T-Shirt
Who can ever resist a free T-shirt? Print your logo on a high-quality shirt and everyone will be taking them home. Free marketing for you? Check. Free t-shirt for them to wear to the gym or around town? Check. Everyone wins.
Starting at $10 per item
5. Company Labeled Earbuds
Earbuds are constantly needing to be replaced, or charged, if they're not forgotten… the point is, a backup pair is a welcome addition to any trade show attendee bag. Choose quality earbuds that you can brand with your logo, and you've got people remembering you whenever they listen to their favorite music or podcasts.
Starting at $12.67 per set
6. Webcam
A 1080P light-up webcam is perfect for today's normalized Zoom meetings and remote work life. People can really look their best on video chats, which will help them feel more confident and have more fun, in both work meetings and family chats.
Starting at $43.25 per item
7. Custom Executive Pen USB Flash Drives
Not only will you be helping anyone out who needs a pen, but you'll stand out amongst any other booths giving away pens, because this one includes a USB in the pen itself that you can even preload with your own content. With your logo and this pen, people all over will get to see your branding.
Starting at: N/A
8. Charging cables
Potentially save the day, but also add convenience to people's lives with charging cables – either a 4-in-one that keeps cords from tangling, or a lanyard phone charger, with your branding on it and people sending trade show attendees to your booth.
Starting at $5.78 per item
9. Notebook
Most likely, people are wanting to take notes at the trade show, and it's also likely that not too many brought a notebook in their luggage. You can always give pens away with these so people will be ready for their breakout sessions or to listen to the next speaker.
Starting at $3 per item
10. Custom USB Flash Drive
Flash drives never go out of style, and you can make them more unique and fun by putting your logo on any kind of USB imaginable, from key USBs to lanyards or wristbands, to bottle openers or business cards.
Starting at: N/A
11. PPE
Personal Protective Equipment is definitely a smart choice for trade show giveaways because the items will most certainly be usable – from masks, to hand sanitizer, to UV sanitizers and more, you'll stand out and people will be coming to your booth for these items.
Starting at: N/A
12. Can Coolers
A branded can cooler is a great, lightweight and easy-to-travel giveaway idea. People can put your logo over their drink's logo anytime, and people will be thinking about your company while having fun with friends.
Starting at $0.19 per item
13. Personalized Coffee Mug
Coffee mugs are a classic favorite item that everyone can get excited about, because who doesn't love mugs for their favorite hot drinks? Choose from ceramic mugs to travel mugs, brand them with your logo and/or the conference theme, and make sure people know who to thank for their favorite giveaway of the trade show.
Starting at $4.84 per item
14. Cell Phone Accessories
Choose cell phone accessories like PopSocket holders or phone wallets for fun, useful items for anyone's smartphone. These make great giveaways because they're affordable, small and easy to transport, and universally useful.
Starting at: N/A
15. Awesome Custom Designed Drinkware
From tumblers to mugs to water bottles, drinkware for giveaways can come in any size, shape, color or material. When you place your brand image, logo or message on the drinkware, you can get more brand awareness through anyone who sees it in the future.
Starting at: N/A
16. Face Mask
Face masks are a no-brainer in today's world – placing your brand's image or message on a face mask will make people into walking billboards. Plus, people at the event might just happen to need a clean mask.
Starting at $5.79 per item
17. Custom Tech Accessories
Custom tech accessories, such as charger cord keepers, lanyard chargers, and smartphone accessories can be great simple items to give away that are extremely useful, and will keep your brand top of mind.
Starting at: N/A
18. Custom High-Quality Coasters
Custom coasters that are made from high-quality, eco-friendly materials such as sandstone, bamboo, acrylic and more, are easily packable, light enough to carry around, and highly covetable souvenirs for people to take home. They'll be showing off your logo at home or the office all day long!
Starting at $2.97 per item
19. Tote Bags
Tote bags are a great idea because people can have a high-quality bag to carry their other items in at the trade show before taking home and continuing to use the bag for anything from everyday items to groceries.
Starting at $5 per item
20. Gift Cards
Gift cards that have a monetary amount or percentage off of items or services you sell are a great way to get new clients looking to try out your business. You can also raffle off a higher-ticket gift card, or have a contest that gets people coming to your booth to sign up and coming back to check on the winners.
Starting at: N/A
21. Hats
Baseball hats, beanies, and other crazy hat styles are all great ideas to get people sporting your brand all over the place! At a trade show, people will be wearing your hat everywhere around town during the event and then the hat will serve as a reminder that they'll treasure for years to come.
Starting at $10 per item
22. Key Keeper
Make life easier for people and have something truly unique to give away with this key keeper that makes carrying keys a much simpler affair. It can carry a large number of keys – with an optional extension – and even has a bottle opener. Once people get this item, they'll be carrying it – and your logo – everywhere they go.
Starting at $9.66 per item
23. Bottle Opener USB
You can gift an all-in-one custom bottle opener and USB that people can have with them at all times, with your brand plastered on it, with this simple giveaway item.
Starting at: N/A
24. Portable Waterproof Bluetooth Speaker
This high-quality waterproof Bluetooth speaker is great for a giveaway, raffle or contest at a trade show. It's highly useful, and people will be able to use it even at the beach or on a rainy day, so there's no reason for you to not get the highest number of brand impressions possible!
Starting at $24.39 per item
25. Webcam covers
Everyone needs webcam covers now more than ever, with so many Zoom calls, to avoid embarrassment when they don't realize their camera is on. Also, most people don't use these but they're actually needed for security purposes as well. And, your logo will be in front of their face whenever it's covering the camera lens.
Starting at $1.38 per item
Conclusion
Trade shows have been around since the Medieval days, and there's a good reason they haven't gone anywhere – they're a unique opportunity for in-person meetings with entire industries. They're such a perfect time to network, connect and, yes, to sell your goods or services. Promotional giveaway items at your booth are an excellent way to draw people in and to help them remember you, plus to spread brand awareness past the event. We hope this list helps you find the perfect giveaway for your next trade show!