Custom Personalized Mugs
Premium Customized Mugs, made Personal!
Create an unbelievable unboxing experience!
Connect with valuable clients and employees
Practical design with a premium feel.
Personalize with premium gift packaging and individual names!
and of course...
No Minimums, Delivered Next Day!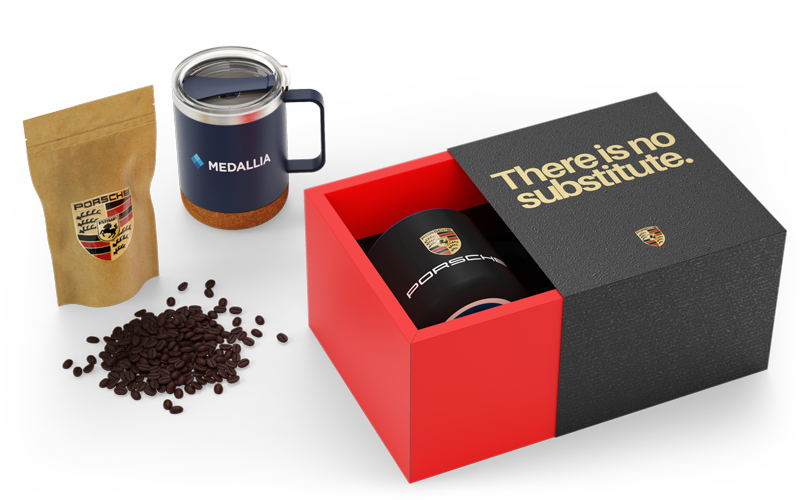 Not Sure What You Need?
Our experts can help you find the right product for your business needs. Get in touch with us today!
Overview
Shop Our Personalized and Customizable Mugs
So, you've decided to go with custom mugs or tumblers for your clients, employees, friends or family! CustomUSB is the place for you if you want quality mugs that will successfully keep drinks hot or cold for 12+ hours on every conceivable adventure. Unlike other personalizable mugs, ours are vacuum insulated with stainless steel and a copper inner wall, plus a tight-locking lid. What does this mean? Mugs from CustomUSB will see the light of day because people won't fear spills and will take them on all kinds of activities.
Branded mugs will set your company apart from the rest
The versatility of personalized mugs from CustomUSB means that your logo and design will be seen by more people outside of the office or home, increasing your number of impressions possibly thousands of times more than with a regular old ceramic mug. Plus, your people will love you for giving them an uber-useful gift that will become as reliable and ever-present as you, or your company is to them. Think of it this way: a favorite coffee mug gives way more warm impressions than a traditional ad (plus saves you money).
These mugs are their new BFF (and they'll have you to thank)
Your gift recipients will see your logo each and every time they sip from their coffee mugs at perfect temps (because that's what these mugs do), and will never be let down - just like your company does business. Whether people are coffee, tea, or water-with-lemon drinkers, they will love these mugs that they can take on the go, or set at their desk to slowly sip without fear of the dreaded luke-warm drink situation (do I put it in the microwave or do I suffer through it?).
The CustomUSB Custom Mugs Promise
These mugs are long-lasting and reliable - so much so, that we gave them a lifetime guarantee. In addition, we promise that your laser-engraved logo or design will stay on the product for life. CustomUSB mugs are crafted with double-wall stainless steel and a copper plated inner wall, meaning heat stays for 12+ hours long. There are no minimum order numbers and next-day delivery, which is the CustomUSB difference.
Why not give us a try today? If you don't like it, we promise we'll give you a no-hassle return. Just click on the "customize now" button and see what your personalized logo or design will look like on one of our mugs today!
---
FAQs
What are these mugs made out of?
We have ceramic mugs and insulated mugs. All of our ceramic mugs are crafted with stoneware, and the Iris mug has a cork base.
The insulated mugs are made with stainless steel, a copper-plated inner wall for thermal insulation and a stainless steel rim.. They have a powder-coated finish and the locking lid is made with plastic. The Explorer mug has a cork base.
Can I place my mug in the dishwasher?
All of our mugs are hand wash recommended, especially the ones with a cork base, the insulated stainless steel mugs, and if they have a metallic imprint.
Who are personalized mugs best for?
Personalized mugs are a great promotional gift for anyone who drinks coffee, tea, hot chocolate or other warm drinks! If the mug is personalized to the individual, they're sure to love it, and if it's branded they're likely to love an extra mug to have around, and those who don't are likely to give it away, meaning someone will still get to enjoy the mug. You really can't go wrong with choosing any of our personalized mugs for your next gift or giveaway.