4 Steps To Effectively Promote With Corporate Gifts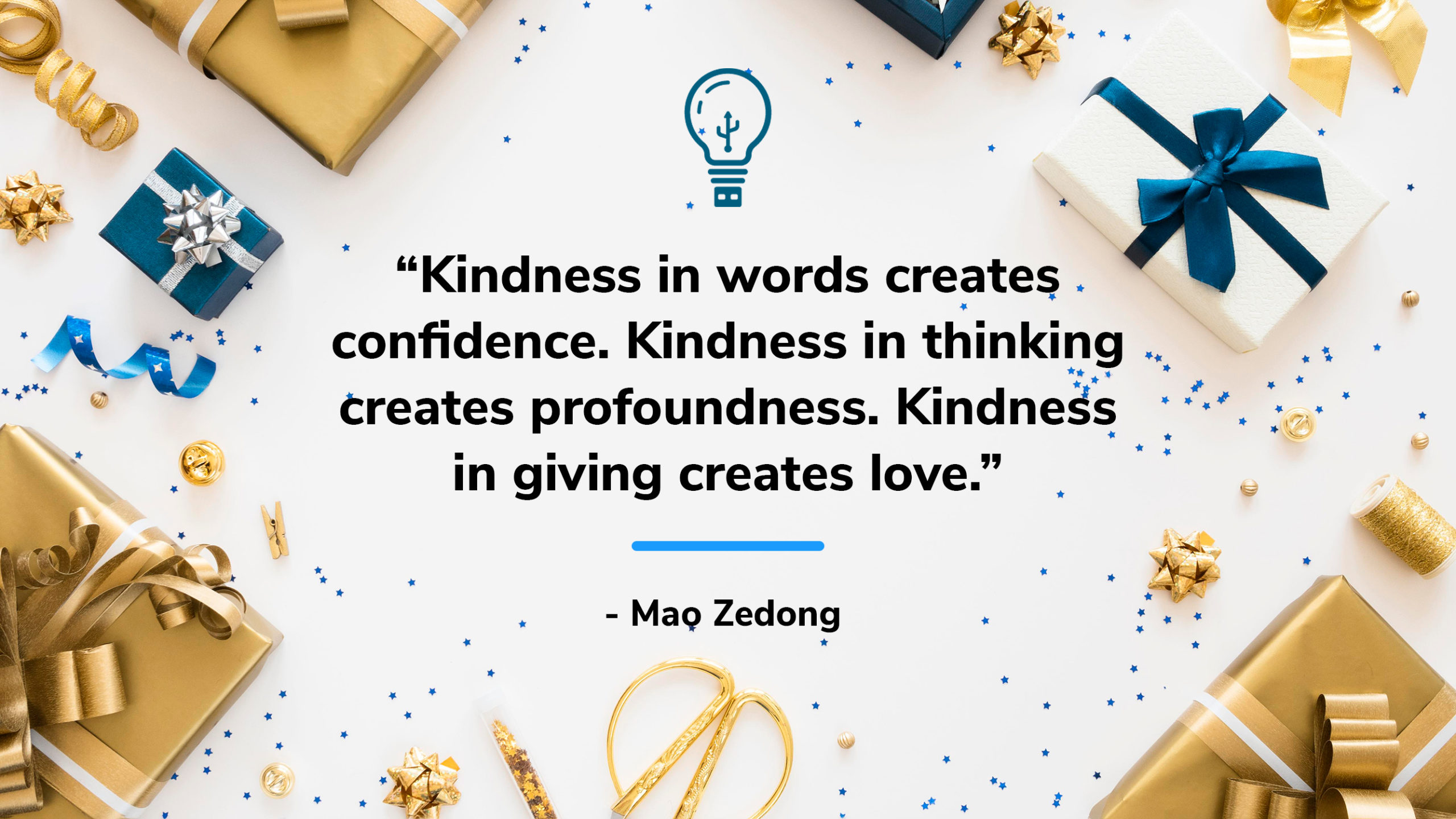 Wondering how to choose a corporate gift for your promotion? Promotion happens through words, advertising, communications, and gifts. All of these are part of the relationships you build with clients, employees, vendors and potential customers. Without gifts, you're missing an important part of this relationship-building. Corporate gifting can seem tricky; however, with this guide you can better understand the psychology of gifts, and how to promote corporate gifts using the perfect gifting strategy can increase your "know, like and trust" in relationships.
What Is Corporate Gifting? Why Use Corporate Gifts
Whether your goal is to reward an employee, recognize customers, gain a new client, strengthen your relationships with vendors, or something else, corporate gifting holds tremendous value for you and your business.
Some common misconceptions about gift-giving:
The meaning of words like value and thoughtfulness. It's not actually about you, but them. When you choose gifts people actually want, you'll get the returns – in customer loyalty, new customers, happy employees, or whatever your end goal may be.
The surprise isn't actually that important! It's totally okay, and actually preferable, to just ask people what they want – this is actual thoughtfulness in the eyes of the recipients. People want something they can continue to use past the initial moment of fleeting gratitude. Think in terms of long-lasting benefits is key when choosing corporate gifts.
The more money spent, the better the gift. While you don't want to choose cheap, poor quality gifts, you also don't need to overspend to make people happy.
It's the thought that counts. Don't drive yourself crazy trying to find the perfect gift – just use this guide and the ideas included here, and people will appreciate your stand-out efforts, recognizing your appreciation.

How To Choose A Corporate Gift For A Promotion
When you get a promotional gift, don't try to be too unique. If there is something that is universally desired or valued, either because it's a trend or is super useful, don't shirk it in the name of "standing out". You will stand out because you're giving people what they actually want, which will feel to them like you're listening, and like you know them – thereby strengthening your bond with them.
Think about what people would choose for themselves – the best way to figure out what to get people is to figure out what values you share with them and use that as your guide. An example is utility over flashiness. Someone may not share your aesthetic tastes, so while they may initially be impressed, they may never use the gift. Give them something with the value of utility.
One way you can do this for a group is to create a poll and find out what people want. For instance, you could let people choose between headphones, Bluetooth speakers or wireless chargers – and then order them each what they chose. Then you have some control over price and items, but you generate more excitement, show people you actually care, and make sure gifts get long term use. And don't worry – people would rather wait for the higher quality gift than settle for something in the moment. Let the anticipation build!

What Gifts Should You Get With Your Budget?
It's totally okay to buy corporate gifts on a budget. Your recipients won't care so much what the dollar amount of the gift is, as long as the gift enhances their lives. Gift-giving is a fantastic way to increase perceived personalized value, which is increasingly important today for brands.
It is a good idea to include your logo on corporate gifts. If you're going to spend part of your budget on gifts, it must go both ways – the gift is about your recipients, of course, but including your information and branding on the gift is your way to keep that reminder so you can enjoy the returns of your efforts. Consider the overall aesthetic and take into account how much value your logo and branding have with customers when determining how prominent to make your logo.
Check policies of clients, vendors or stakeholders to see if they have restrictions on gifts and dollar amounts allowed first.
Because people love personalized experiences, some additional ideas to consider are:
Giving personalized USB sticks with experiential files included (videos, apps, etc.)
Custom kits for extended value and personalization
Custom packaging for people to unbox on social media for added promotional benefits

How to Promote Corporate Gifts In An Effective Way
The following four steps will show you how to promote your corporate gifts in a way that benefits all parties involved, so you will have happy people who will keep being loyal, because you actually care about them.
Identify Your Business Target Market
Make sure you get to know your exact target market for your gifts. You can talk to these people through emails and polling, and talk to others in your target market through avenues like discussion boards on Quora and Facebook groups. Check out product reviews from similar businesses to yours. Address pain points through your gifts. Be as clear as possible.
Tier Your Gifts To Stretch Your Budget
The best way to know how your customers relate to you is segmentation. You can do this through marketing strategy research. Figure out where customers came from, what kind of business they've given you, and more.
Group them into categories, and gift accordingly: buy the fancier gifts for your most loyal or profitable customers that you want to thank the most, like corporate gift sets or tech items.
Don't neglect your lower-tier customers, because they have the potential to become higher-tier, and all customers are important. Get them something lower budget but valuable, like quality drinkware or tech accessories.
Gifts are the most budget-friendly way to build relationships and advertise with the greatest power, with the CPI (cost-per-impression) being as low and 1/10th of a percent.
Determine Your Corporate Gifts
Are you giving a holiday gift to employees? Gifting influencers who you have affiliate partnerships with? Getting ready for a trade show giveaway? List out the factors that define both the situation and the recipients of your gifts. Once you know the purpose in addition to the market, you can choose the perfect gifts accordingly and maximize your reach.
Some examples include:
Set Your Promotional Goals
Whether your gifts are to show gratitude to employees or to gain potential customers, you're always in the business of building relationships, and that's the main purpose behind corporate gifting. Placing branding on the gifts is your end of the relationship – because instead of getting lost in all their other stuff, you'll be gaining impressions, which equates to people remembering their relationship with you.
It takes repeated exposure to your brand for people to remember you, and branded products can have as high as 85% recall, so your logo and message are a must. However, you can do this in a way that's appreciated and aesthetically pleasing. The design team at CustomUSB helps companies know how to design items in ways that are effective.
Besides the product itself, things like USA-based manufacturing make a difference in gaining customer loyalty, and people hold onto promotional gifts for at least one year, and then if they decide to get rid of them, they give them to someone else, which continues to increase your impressions and brand recognition.

Useful Tips for Marketing Your Business Through Corporate Gifts
If you want to use corporate gifts to market your company, there are some key things to consider:
The purpose of your gifts: is it to promote a new product or service? Gain a new customer base? Show appreciation to employees? Increasing brand awareness? Improving your image? Whatever the reason, it's important to think strategically about choosing what gifts you want to give.
The recipient(s) of the gifts: A tradeshow giveaway to promote a new product is different from an employee who just got married. You'll need to consider what's important and valuable to them, and how much value they give to you to determine budget and gift options.
Practicality: Are your gifts practical? Do they enhance and contribute to the lives of the recipients? Make sure you're giving something useful and of value – a necklace may have aesthetic value, but your recipient might have different tastes – it's better to opt for a water bottle or phone charger.
Personality: What will remind the recipients of your business? A USB that they'll use for computer needs, if you're a SaaS company? Or bluetooth speakers, if you're in the music industry or have a podcast they should be listening to? These will add to the value of your branded gift in more personalized ways.
Conclusion
Promoting corporate gifts in a useful way doesn't have to be rocket science, but you do need to employ some strategy to gain maximum benefits from your efforts and budget. We hope this guide is helpful in planning your next promotional gifts!
One of the main ways to give people gifts that are sure to have perceived value and practical usefulness is to give things that are universally liked, useful and trending. CustomUSB has you covered with high-quality tech items like earbuds, Bluetooth speakers, wireless chargers and USBs, to drinkware and accessories that people are sure to get years of use from. We offer a lifetime warranty on all our products, as well as high-quality printing and manufacturing in the USA. Browse our products to find the perfect gift for your target market!