Promotional Products for the Hospitality Industry
A robust economy paired with remarkable digital innovation has led to the unprecedented growth of the hospitality industry. Gross bookings and revenue have spiked across every area of the industry. The restaurant industry currently sits at $799 billion, the airline industry at $222 billion; hotels are at $185 billion, car rentals at $129 billion, and cruises at $18 billion. After ten years of sustained growth, many people believe that the industry may be headed for a slowdown. The hospitality industry typically is the hardest hurt during times of economic downturns, and the customer demographic changes dramatically depending on the state of the economy. Typically during a slow economy only the more affluent will travel. Thankfully, at least for the rest of 2019 consumer spending seems to be steady. Yet, according to Delloite, historically every ten years the hospitality industry experiences a softening in demand. This means that hospitality business may want to rethink some of their customer retention strategies to prepare for a potential slowdown.
So, with a possible down tick in customers looming, what is the solution for companies looking to stand out? The truth is that it all comes down to being able to deliver exactly what the customer is searching for.
Right now, in the era of technology that means personalization and convenience. This can mean knowing return guests' drink orders ahead of time, customizing their room temperature, or allowing access and ordering from your mobile devices (car service, food etc.). It also means rewarding loyal guests with gifts, and providing guests with items that actually make their stay better. This of course can be achieved through the use of promotional products.
Benefit of Promotional Tech
If you are an executive in the hospitality industry, you should consider implementing a promotional products strategy. Promotional products give your customers an idea of how much you value their business, and serve as a physical reminder of your brand.
Naturally, everyone loves getting free, valuable items, but what could really make you stand out is giving away customized tech. The hospitality industry has had a tech explosion in the last ten years. Consumers are more tech-savvy than ever before.
According to Hospitality Technology, in 2016 54% of hotels spent more on technology. It is unsurprising considering guest expectations now demand the latest and greatest in tech. Most flights have WIFI, and many hotels offer mobile booking. It only makes sense that guests would also greatly appreciate complementary promotional tech products.
Customized tech products are actually used by the guests, and they are used for an extended period of time – giving your guest more face time with your brand. Let's take a look at some of the potential custom products that would do well in the hospitality industry.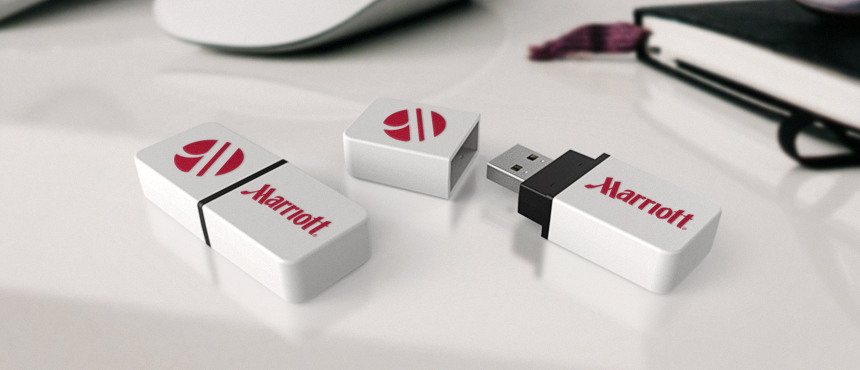 Custom Phone Charger
When people are traveling, they often forget a few key items; a toothbrush, and a phone charger are usually at the top of the list. Oftentimes, we don't realize what we have forgotten until we are all settled in for the night.
Thankfully, most hotels will have an extra toothbrush on hand if you call down to the front desk. Yet, not every hotel will have an extra phone charger. This is a real problem. A charged phone is a necessity everyday, but on a trip it is a lifeline. People really start to panic when they realize their phone only has 3% left, and they don't know if they'll make it to a store. That is why it is a major relief to find out that the hotel has custom phone chargers, branded and highly functional. It is virtually guaranteed that they will be used and appreciated. Giving them out to guests will influence their perception of the stay. Someone who walks away feeling well taken care of will certainly give a hotel a positive review. It is also not uncommon for a gesture like this to be met with a happy Twitter or Facebook post like the one below.
Custom Headphones
Traveling, we all love it, but it also means that at some point, you are going to be sitting for a long period of time, trying to get from one place to the other. Very few people enjoy the "getting there" part, but it can be made better. Modern technology has given us the ability to be entertained while on planes, trains and automobiles. Now, we can watch movies, or listen to books, music, or podcasts. There is no fixing how long we have to sit for, but at least now while we sit we can do something relaxing and enjoyable. That is why it is such a good idea for the hospitality industry to stock headphones.
Headphones are our connection to the world of entertainment. There is nothing worse than stepping on a plane, sitting down for a long flight, and realizing that your headphones are in your checked bag-or worse, you forgot them all together. Then, when you ask a staff member for a pair they may give you majorly outdated over the ear ones that let out all the sound, or ones that are definitely going to hurt your ear by the end of the trip. It can be a major letdown. Now, if they hand you good quality custom earbuds, it feels like the height of luxury. You feel well taken care of, and valued as a customer. These small touches have a big impact on consumer perception.
Custom USB Flash Drives
The Global Business Travel Association estimates that there are about 488 million business trips taken every year. This is a massive number of people who are utilizing the hospitality industry with the singular purpose of getting business done. These are the people who often are in their hotel room working on finishing up their big presentation for the meeting tomorrow opposed to relaxing and watching some TV.
For the businessmen and women of the world, traveling can be a stressful endeavor, and they may appreciate customized tech more than any other traveler. Offering customizable technology that could be useful to them on their business trip could greatly influence their perception of the service provided. A custom USB drive could be used to back up files, or save and transport a presentation that will be shown at a meeting. Giving your hotel guest a branded flash drive could make this process much more convenient for them. So much so that not only will they use the product, but also they will be more likely to recommend the hotel as a great place to stay for those who travel for business.
Why Guests Appreciate Tech
The hospitality industry is all about making your guest as comfortable and well taken care of as possible. Even if you supply budget friendly services, you still want your guests to walk away feeling like they had a luxurious, high-end experience.
While branded soaps, face masks, and mints are always appreciated, branching out into branded tech products could get you more of a positive reaction. Guests who receive these items are usually very appreciative because they really need them, especially while they are traveling. It shows your guest that you are thinking of what will make their stay truly the most convenient possible. Further, in an industry that has been revolutionized by technology, it is more important than ever that you show your guests that you are keeping up with the trends, and that you understand how important their tech items are to their experience.
Brands that show that they care about their guests develop a relationship with them based off of mutual appreciation. Offering tech savvy gifts to show what the guests business means to the company is a sure way to enhance this symbiotic relationship. So, if you are a part of the team that works to improve your customer's satisfaction, then consider adding promotional tech to your customer retention strategy. Customized technology given to guests whether it is at a hotel, airline, attraction or restaurant, will always make your brand appear stand out as a frontrunner in the industry. Most of all tech is useful, and the gesture will be remembered.