2021 Custom Tech Kit Trends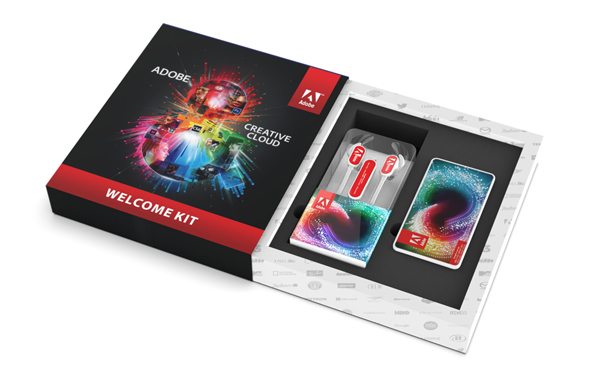 There are many reasons why 2021 is the year to utilize Custom Tech Kits. With more people working remotely than ever, Custom Tech Kits are a way to strengthen employee morale, boost engagement, and drive sales in a remote world. Promotional tech is the most valued category, and when included in a kit, each promotional item increases its effectiveness up to 44%.
Why send Custom Tech Kits
Reasons why you should send Custom Tech Kits include recognizing employees, virtual events, and additional marketing benefits.
In a survey conducted by SurveyMonkey and Bonusly, 63% of employees said that recognition made them want to stay with their current job, and 82% said they're happier at work when they're recognized.
Custom Tech Kits are an incredibly effective way to gain engagement for virtual events like conferences and sales meetings. A survey by Advertising Specialty Impressions showed that people under 55 would rather have promotional products over other forms of ads. People love receiving gifts and will engage more with companies and events that send them, while connecting with your brand and sharing with family and friends.
In 2021, we're still living in a remote world. Over 41 percent of the workforce is currently remote. By 2025, Upwork estimates that 36.2 million Americans will be working remotely. Inc.com predicts that people's new preferences for all things digital will likely remain, since tech was already growing before the pandemic.
Why Custom Tech Kits?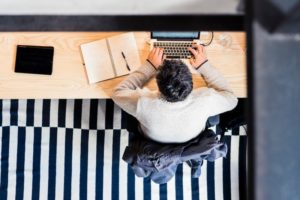 When you're selecting items for your tech swag kit, you may want to think a bit more about what you're sending people and how the items you send are being presented. The right swag can help boost productivity and make people more engaged with your brand, event or campaign. You need to think about what people will find useful, plus quality and appearance. High quality tech with excellent design, in a kit that has custom packaging, will make the greatest impression on employees and customers. Have you experienced people responding more to custom design and packaging? Let us know in the comments.
Here are the top 2021 top tech kit items, and reasons why you should send them to employees, customers, or anyone else on your list:
2021 Tech Trends for Custom Swag Kits
1. Tech & Package Design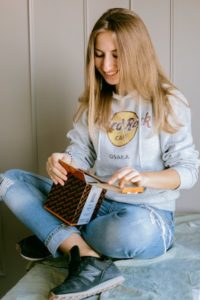 With many places to shop for tech, one trend that will remain prevalent for custom swag kits is design and artistic value. Having excellent package design differentiates your brand from competitors, and is as important as the products themselves.
Just like a billboard or magazine ad, swag items serve a double purpose. As opposed to print or digital ads, promotional products have as high as 85% retention rate.
Millennials especially hate traditional advertising. The type of ads they find effective are word-of-mouth and celebrity and influencer endorsements. The bottom line is that advertising is more effective when it is more authentic, less invasive, and supports a cause that people can get behind. The good news is that Custom Tech Kits are one of the best ways to accomplish all of these objectives. A grouping of products with custom packaging allows people to post unboxing videos. 1 in 5 consumers has watched an unboxing video and the trend is still growing.
The most important thing is to give people swag that is high quality, memorable and fits your brand. A custom swag kit has much higher value than giving away one promotional item.
CustomUSB has an edge on designing promotional products and packaging as art. We've designed custom products for brands, movies and more. Contact us to talk about your custom design today.
Here's an example of a custom tech impression journey: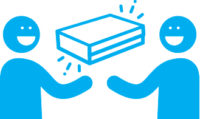 Person gets custom kit, gains excitement about your company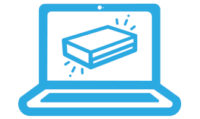 Unboxes kit and/or uses products in public, on zoom, or social media, building brand awareness and trust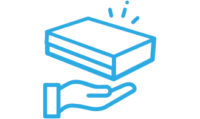 Person re-gifts item(s), giving your brand a whole new potential for even more visibility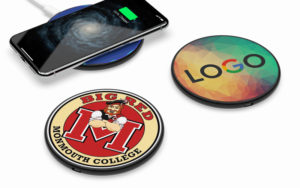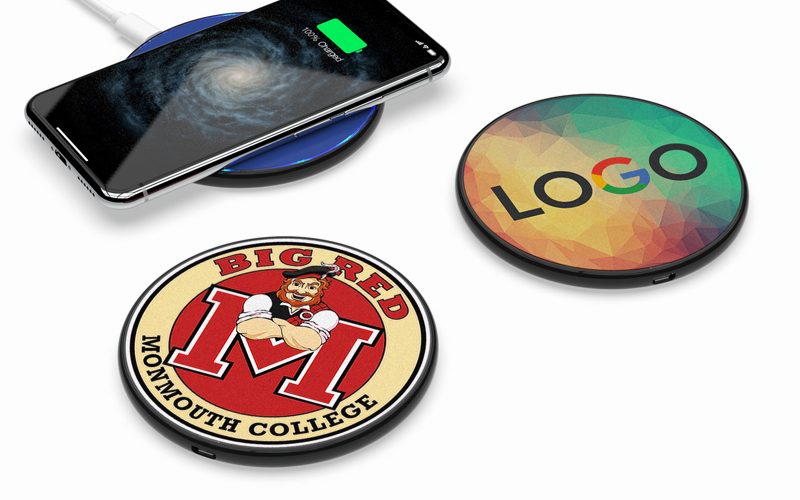 Wireless chargers eliminate the need for a USB cable to charge, so they are perfect giveaways for people on the go, as well as anyone who needs to charge a phone!
Virtual conferences and trade shows are not going anywhere in 2021, even when in-person events resume. This is largely because digital nomadism is becoming more widespread. Digital nomads from the US have already grown by 49% since 2019, according to MBO Partners. According to Softchoice, 74% of employees would quit their current jobs for a remote one.
Digital nomads need to connect via virtual gatherings to employers and clients, and must have tech items, especially chargers, with them at all times. Custom kits can be shipped anywhere and tech products are more guaranteed to travel with people instead of sitting in a drawer.
3. Tech accessories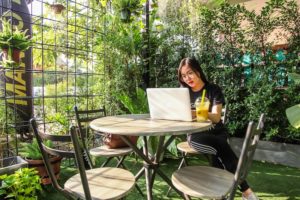 Technology is capable of amazing things, and the list of what tech can do keeps growing and improving by the day. According to Oberlo, there are 3.5 million smartphone users around the world, with people using their phones for an average of 2 hours and 55 minutes per day. More people shop and read reviews on their phones than going into a store or speaking with employees.
Smartphones, tablets and computers are overtaking daily life in even more areas, including:
Shopping for food and other items (contactless delivery)
Telehealth – virtual doctor visits and mental health visits
E-learning and online courses
All of these trends point to one known fact: people are living much of their lives online. People will have a major focus on keeping up their tech.
Gear for people who use computers, tablets and phones:
Camera Blockers: These allow people to feel safe in a time when they're using their camera so often, they worry if it's off. These also give extra security in general.
Hinge grip phone holders: People are relying on phones more than ever, and these will help them avoid muscle soreness. They also double as a phone stand so people can watch a show or get on Zoom when they're not willing to open their laptop for the 20th time that day.
Accessories for keeping away germs: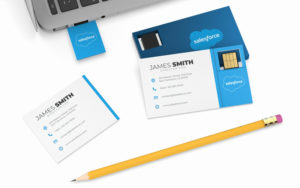 Just because people aren't commuting or going out as much does not mean the only way to contact them is online. At the same time, you want to have an option that people won't want to throw away quickly. Smart media gives what would normally be a piece of paper a digital life as well, so you can deliver in a non-traditional way – just like 2021. Including these in a kit extends their value because when they're with other valuable products, it will increase the likelihood that they will be viewed.
Smart cards and direct mail pieces are great to include in new product launch kits to inform about a new product or service, or for onboarding new employees or clients. Have you used smart mail? We would love to know how it worked for you in the comments!
Music and entertainment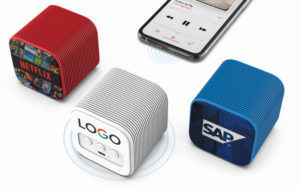 are driving tech trends for 2021. From A.I. and virtual reality to musicians gaining more control over their own music, the entertainment industry is diving more into tech than ever before. Livestream concerts, music education online, virtual Broadway performances and ASMR Rooms are examples. Including bluetooth speakers and earbuds in a custom tech kit will allow plenty of opportunities for use and brand retention.
Besides the fact that bluetooth speakers are a popular item, they're unusual for a giveaway, so they will be memorable. Even if they're only used in a person's quarantined home and are never displayed on a Zoom call, they will be used over and over again – or possibly given away to another user, so they can continue to spread your brand's message while having a life of their own.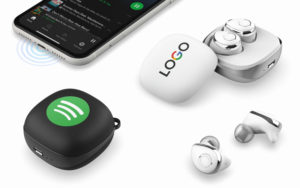 With families all in the same house 24/7 at times, everyone needs their own headphones for work, school, and entertainment. For digital nomads, earbuds are definitely a must-have. Everyone needs backup sets for when one fails. A 2019 Statista survey showed earbuds and headphones to be the leader in gifts by 7% of its list, at 58%. Your employees and customers will love you for saving them money on another set of these things!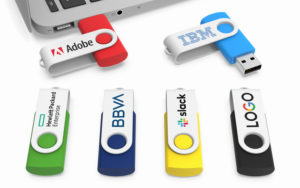 The USB is more relevant than ever and highly useful in the business setting. These can be mailed, and they have a lot of value left in them after the initial use. There are multiple USB types, like bottle openers, script pens, business cards, badge reels and more. They carry storage capacity and backup potential for anything and everything people are making and working on digitally. USB drives are an easy addition to any tech kit!
Conclusion
Maybe not surprising to some, tech trends that were already moving forward have been pushed along and become the "new normal." Custom Tech Kits are the best way to communicate, grow your business and boost employee happiness. Well designed, high quality kits are a growing trend and are proven to make you stand out from the crowd. Grouping swag into a kit versus sending them solo adds value and drives company retention rates.
Make a custom tech kit your next employee gift, marketing move or trade show giveaway with CustomUSB! Also, let us know in the comments your experiences with Custom Tech Kits!