Brandable Bond Sanitizer Clips: Patented On-The-Go System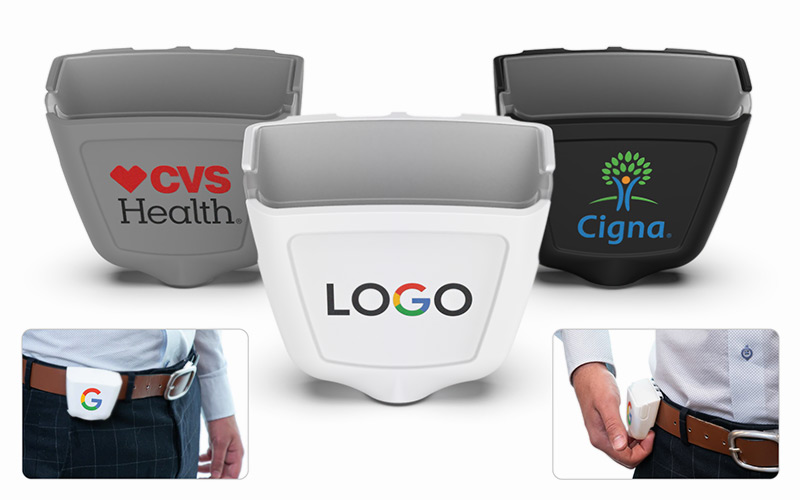 Keeping our hands clean in public is more important than ever to prevent the spread of disease, but hand sanitizer isn't always the easiest thing to keep in reach. Plunger dispensers aren't really portable, and small bottles are only helpful if you remember to keep one in a bag or purse you'll have nearby. 
There is an easier solution. Our Bond Clip-on Sanitizer Dispenser can attach to pants, belts, pockets — whatever is convenient as you go about your day. With sanitizer so near at hand, all it takes is regular use to make sure you're minimizing the chance of spreading pathogens to yourself or others through touch. In fact, the Centers for Disease Control recommend that you use hand sanitizer any time you touch a potentially contaminated surface and soap and water aren't available.
Wearable sanitizers aren't all created equal, though. CustomUSB recently partnered with Bond, a company offering high-quality, one-handed sanitizer dispensers, but no matter what solution you choose, you should make sure it's the best option for you.
How it works.
The Patented Bond system is easy to use and re-use.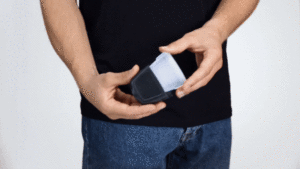 Fill with your favorite sanitizer
Clip onto your pants, belt or strap
Squeeze to dispense sanitizer
Let's explore the advantages of our Exclusive Patented Bond Sanitizer Dispensers. 
1. Is Bond reusable?
One issue with portable sanitizer bottles is waste. When you're using a lot of sanitizer, you're going through a lot of bottles, and the only thing to do with an empty one is throw it out. That can mean a lot of empty bottles going in the trash.
You can think of it like water bottles: A plastic bottle of water might be the most convenient option when you're thirsty now, but it would be expensive — not to mention wasteful — to only drink out of disposable bottles. Instead, most people use cups or reusable bottles, refilled at a sink or water cooler as they drink throughout the day. 
The Bond dispenser works like a water bottle you might take to the gym — you can refill it as often as you need from whatever source is handy, and it can be cleaned and reused indefinitely. Remember that gels should be at least 60% alcohol to ensure they're effective at killing germs.
2. Is Bond environmentally friendly? 
Choosing a dispenser that's reusable is a great step towards making sure your hand sanitizer products aren't harmful to the environment, but there's more to consider. What materials are the dispensers made of? Do they require any sort of proprietary items to use, like cartridges or a specific kind of gel?
These questions go beyond just your personal preference, too. Customers increasingly look to environmental sustainability when they're making decisions about what to buy and consume. The Advertising Specialty Institute's 2020 Ad Impression Survey found that a full 46% of consumers have a more favorable opinion of an advertiser if the promo product they received was environmentally friendly!

The Bond dispenser is made of 100% recyclable plastic, and it can be easily refilled with any sanitizer you have on hand — rather than having to buy a licensed cartridge, all you have to do is squeeze gel into the reusable reservoir, clip it where you want and you're good to go.
3. Does Bond allow one-handed operation? 
Hand sanitizer and hand washing are great ways to keep clean, but it's important to remember the very best way to make sure your hands stay sanitary: Don't touch contaminated surfaces! (You can learn more about how sanitizer works and why the CDC recommends washing your hands with soap and water over using gel in our recent post on alcohol-based hand sanitizer here.)
With that in mind, it's best to find ways to reduce your contact with things you don't need to touch, and that includes tables, bags, even bottles of hand sanitizer that others might have handled. A one-touch solution like the Bond dispenser can help solve that problem, giving you a way to clean your hands while just touching a single button.
4. Is Bond brandable?
If you're interested in using hand sanitizer as a promotional item, it's obviously important that you be able to put your logo and branding on it. Some logo placements are more effective than others, however. Your company name on a small, 2 oz. disposable bottle of gel might get some attention, but it's going to be harder to see stowed in a purse or empty in a garbage can.
With the Bond sanitizer dispenser from CustomUSB, your logo can sit front and center, with a 1.81″ x 1.39″ print area and full-color printing options. Employees can look sharp while keeping their hands clean, and clients and customers will help you get your brand out there, acting like mobile billboards for your business! 
That ASI survey we mentioned earlier has some good news here, too: 57% of consumers with promotional products have kept some of them for five years or more, meaning you'll get a lot of branding mileage out of each dispenser. 
Are you ready to give the gift of hand personal hygiene?
If you're interested in a branded, portable hand sanitizer dispensers for your clients, customers or employees, the Bond personal dispenser is an excellent choice, and allows you to maximize your branding. The ability to keep hands clean throughout the day is very important. The Bond Dispenser is a perfect solution and is highly effective to generate brand impressions all day long.