Company Gift Ideas for 2020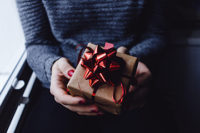 Business gifts for customers, clients and employees are a holiday tradition for a reason: People like it when they feel like you've taken the time to get them something. It builds trust and deepens your relationship, plus it's just good business! 
Of course, something thoughtful or unique will always get a better reaction than something too generic, so it's good to take some time before the holidays start in earnest to think through what you want to gift. What do you do to cap off a year that's been so unique in the challenges it's presented to businesses and individuals?
We've got some ideas for gifts that can protect your colleagues' health, make it easier for them to work on the go or just add a little convenience to their lives. And remember that branding is an option on most of these gift ideas — something with your logo can keep working for you, building your brand while it's being used throughout the year. 
PPE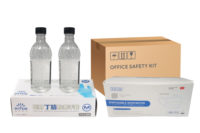 If you want your gifts to be useful heading into 2021, it would be hard to go wrong with personal protective equipment. Masks, hand sanitizer, Safe Keys, and other protective equipment can get daily use, cementing good associations with your company.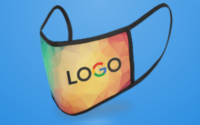 The annual ASI Ad Impressions Study looked at PPE this year, and found that: 
• 80% of consumers wear masks all or most of the time in public
• 71% of customers with logoed masks use theirs weekly or more often
As long as public health officials are recommending that everyone wear masks in public, consumers will need plenty of face coverings, and by gifting a mask with your company's logo, you're giving something people can get daily use out of while your brand gets great exposure.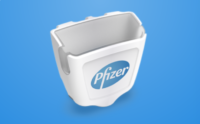 Though it doesn't replace hand washing, sanitizer is a great way to keep hands germ-free when soap and water isn't available. It's easy to brand and gift small bottles of sanitizer, and CustomUSB even offers a clip-on Bond sanitizer dispenser that attaches to a belt or strap for easy access. You can learn more about how hand sanitizer works and what you should know before you buy here.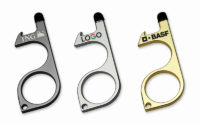 A clever way to keep from touching surfaces that might harbor germs, the Safe Key can clip onto a keychain and can be used to push buttons, interact with touchscreens and even open doors, all without having to risk getting pathogens on your hands. A built-in bottle opener makes it a must-have keychain accessory.
On-the-Go Equipment
Even after health restrictions are lifted, signs are indicating that the future of work is more remote, with less time spent at the office and more spent at home or in smaller shared work spaces. In an environment like that, being able to set up a workstation anywhere will be more and more important. Make it simple with equipment like power banks and chargers, bluetooth speakers and earbuds.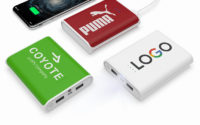 Power banks and portable chargers make great gifts for on-the-go colleagues, giving them the ability to easily charge and power devices any time a wall outlet isn't available. Better yet, branding can help get your name out in the wild while reinforcing the positive brand associations. In fact, the ASI 2020 Ad Impressions Study found that on average, people keep promotional power banks for 12 months, generating over 900 impressions over their lifetime, making them a great investment, even at a higher price point.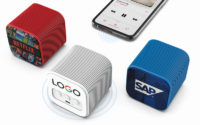 Outdoor gatherings and impromptu parties might be getting a little rarer as the weather cools, but good bluetooth speakers are a perennial favorite (you can read more about how bluetooth speakers make really effective promo gifts here).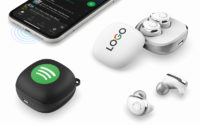 In public, travelling, or even just drowning out at-home distractions while you work, earbuds are an accessory most people can get a lot of good use out of. Make sure to think about things like iOS, Android and Bluetooth compatibility to ensure your gifts are useful to everyone who gets them. 
Convenient Accessories
Another avenue for good gift ideas is to think of little things that people find useful and get them those. Accessories like webcam blockers, phone holders and card keeps are easy to buy and brand, and they can offer giftees a ton of use. And, of course, your logo will keep working for your brand as long as people use the accessories in public! The ASI 2020 Ad Impression Study has some good news there: 57% of consumers with promo products kept some of them for more than 5 years.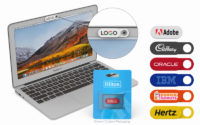 For the best security and privacy, many experts recommend you cover webcams when they're not in use. A post-it note might work fine for the purpose, but a branded cam blocker can be a fun little gift that protects privacy in style. These sliding covers stick over webcams, easily hiding or revealing the lens as needed, and your logo can grace the front, adding an easy branded element.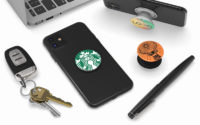 Make it simple for your giftees to hold large phones or angle their cameras for photos with stick-on phone holders. These adhere to the back of smartphones and cases, either laying flat or popping out to serve as a handle or stand. Your logo on the back ensures great opportunities for impressions throughout the day.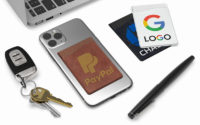 Slim wallets that stick to the back of your smartphone, card keeps can hold several cards, plus cash, SD cards, IDs and more. CustomUSB's card keeps come in premium vegan leather and adhere with strong, 3M tape, making for a luxurious and useful gift.
Don't forget to gift!
We hope this guide has given you some great ideas for promotional and corporate gift ideas you can buy this year — despite all the uncertainty we've faced in 2020, it would be a mistake to forget this simple gesture of kindness and respect. Regardless of what you buy, a gift can mean a lot to your customers and clients. And with your logo on it, it will keep working for you as long as they use it!