The Ultimate Guide to Custom Packaging
McDonald's Happy Meals, Tiffany & Co.'s robin egg bags, Amazon's smiling cardboard boxes — just reading those words instantly conjures up images of each piece of packaging. That's because each of them has something in common: They stand out in crowded markets by embodying the unique brands they represent.
Couldn't you benefit from custom boxes or packaging that do the same thing for your business? Of course, it takes some work to create a brand as well defined and widely known as the examples above, but that's no reason you can't start using custom packaging to give your business a boost, setting yourself apart from competitors and building your brand in consumers' minds.
So how do you go about creating custom product packaging? If you're new to the process, you may be overwhelmed all the available options, so it can be helpful to learn about the choices you'll be making before you jump in.
Read through this guide to get a sense of different approaches to custom packaging. We'll start with some key questions you'll have to answer before you dive in.
What kind of packaging will you need and how will it be used?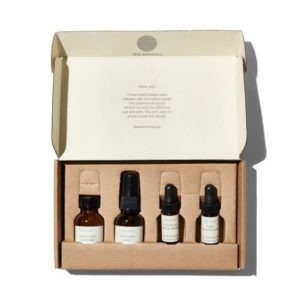 What did you picture when you thought about custom packaging for your company? Do you need better in-store packaging to catch shoppers' eyes? Do you need premium promotional packaging to send to target customers or give away at trade shows? Will your packaging have to hold fragile or perishable items? How will your packaged products be delivered?
Your answers to these questions will frame the whole project, determining what materials and customization features you'll have to work with.
This can be a good time to think about shape as well. Do you want something simple, like a basic box or bag? Do you need a tube to hold something long and thin? Would a more unusual shape like a triangle or star stand out more on a shelf? With the right partner and budget, your options will be extensive, so it's good to figure out what you want early and go from there.
What is your timeline?
When will you need your new packaging? Are you planning something special for a one-off event or promotion? Or are you looking to create a new, permanent look for your products?
Generally, the fewer business days you have before you need your new packaging, the fewer bells and whistles you'll be able to add and the more expensive everything will be.
Does your company have brand guidelines?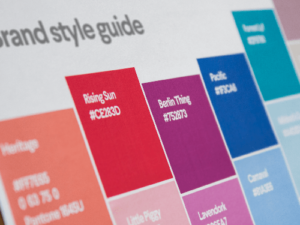 The brands we looked at to start this guide — McDonald's, Tiffany & Co. and Amazon — all have very strong brand identities, which is how they were able to create packaging that simultaneously represents and strengthens their brands. Not many brands have the kind of reach and power of our examples, but any company will benefit from taking some time to think about and define who they are.
If you've already put some work into branding, you likely have guidelines like colors and logo usage that will drive what the packaging looks like and how it performs. A packaging vendor will be able to work with you to integrate those guidelines into your new packaging designs.
And if you don't have brand guidelines? You've got a great opportunity to start creating a strong brand identity with this project! Most custom packaging suppliers have designers on staff who can help you determine the look and feel of your packaging, and these decisions can form the basis of your brand.
Alternatively, you could start by working with an advertising or marketing agency to develop your brand, creating your new packaging once your brand is more solid. While this design work will add to the total cost, creating an established brand identity now can pay off many times over down the road by building awareness and goodwill with your target audience.
What about the details?
If you know how your packaging will be used and your brand is well enough defined to start on the actual design, what decisions are left? Quite a few, as it turns out. You'll have to decide on things like material, color, finish and more before your packaging is ready for production. Read on to start learning about the possibilities.
Materials
The vast majority of packaging is made of paper, but paper is a much larger, more varied category than most people realize. When you're choosing material for your products, you'll likely be dealing with one of two types:
Corrugate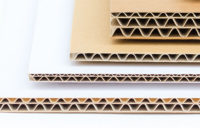 Think shipping boxes: two or more layers of thick paper called linerboard, with wavy, corrugated, paper filling between them. The corrugation adds strength and cushioning without substantially increasing weight.
Paperboard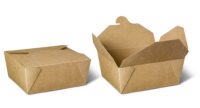 Paperboard is a kind of thick, strengthened paper (cereal boxes and playing cards are two common examples) that can be used in a wide range of packaging styles. If you go this route, you'll have a lot of flexibility with things like color and material thickness.
Weight and Thickness
Speaking of thickness, once you decide what kind of paper material you'll be using, you also have to decide on a weight or thickness. These measures determine how heavy and durable your packaging is. The paper industry is centuries old, so the methods used to classify its products can seem a little confusing or old-fashioned, but most people only need to be concerned about two measures: point and weight.
Point
This refers to the physical thickness of paper or board, measured in 1/1000 inch increments, or points, using very precise calipers. Though there is no hard and fast rule, what we call paperboard — as opposed to paper used for writing, printing, etc. — tends to be 12 point (0.012 inches thick) or more.
Weight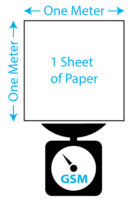 Weight can be measured in a few different ways. U.S. basis weight measures the total mass of 500 uncut sheets, expressed in pounds. Unfortunately, different kinds of paper have different uncut sizes, making apples-to-oranges comparisons difficult. Metric measurements simplify things by finding the weight of one, 1×1 meter sheet, expressed as grams per square meter (GSM).
Shape and Structure
You also have to think about how you want your packaging to look and function. Ultimately, if you can fold paper into a shape, that shape can serve as packaging, but there are a few styles whose simplicity and utility make them common.
Hinged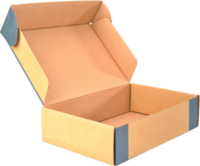 In hinged packaging, the container and lid are attached at a hinge, making it easy to open and close.
Sliding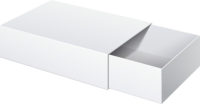 This style nestles a smaller container package inside a slightly larger one, which slides around the outside to enclose the container.
Base and lift-off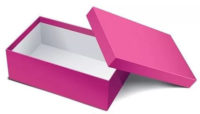 Like hinged without a hinge, base and lift-off packaging uses separate pieces for the container and lid. The two pieces are often designed to nestle together snugly when closed.
Texture
Once you've got an idea of what you want in terms of packaging, it's time to think about the texture, or finish. Again, these decisions will influence how much you'll pay and how customers will perceive your new packaging.
Matte and Glossy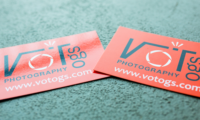 Popular finishes for business cards, matte and glossy use a chemical coating to alter how ink is absorbed and how the final product looks. Glossy finishes have bright, vibrant colors and a shiny look. Matte finishes are more subdued, with a slight sheen.
Metallic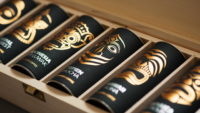 Similar to matte and glossy, metallic finishes treat the material to give it a rich, 3D look with a metal-like shine.
Linen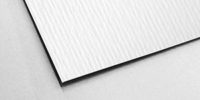 Linen finishes use a kind of embossing to give paper a cloth-like look that's popular with stationary and cards.
Laid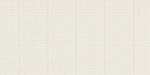 Laid paper mimics older manufacturing techniques to create a handcrafted, vintage look. Using this for your packaging can impart a legacy or prestige feel to your products.
Felt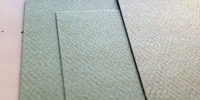 Similar to laid, felt finish has a lot of texture and can create an old-timey, hand-crafted impression.
Combo
Depending on what you're trying to accomplish, you might want to use more than one kind of material and texture. If you're thinking about packaging for promotional purposes, or if your product is high-end, creating packaging that is unique and high-qualify can pay off, even if it's more expensive.
Customization and Printing
Your printing options will depend on the material and finish you choose, but some of the most common options are explained below.
Full Color UV Printing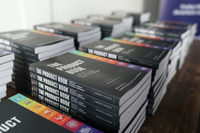 UV printing uses ultraviolet lights to dry ink as soon as it's laid down, which means designs can be printed quickly and with high detail, even on surfaces that wouldn't normally hold ink well.
Foil Printing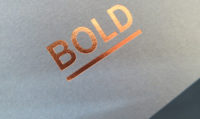 In foil printing, a metal die with your design is superheated and used to bind foil to your packaging in the shape of your design. Different foils can give you different effects, but they will usually give your design an eye-catching sheen.
Emboss and Deboss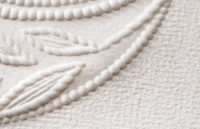 Often used for business cards, embossing and debossing involve raising or lowering the surface of paper or other material to create designs in relief. An embossed or debossed logo or name can add a classic touch to packaging.
Flexography
Flexography allows you to print on flexible material like chip bags.
Peel-Away Label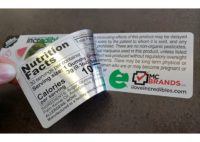 Peel-away labels can be used to hide extra information about your product (as with some medicine bottles), and can also strengthen calls to action by getting the customer to interact with the packaging.
Inside the Box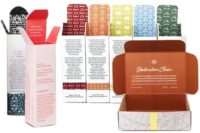 Don't forget about what's inside your packaging! It's not enough to design a beautiful, functional box for your product if the inside looks cheap or is hard to use. Figure out if your product needs any additional support inside its box — paper and foam inserts are often used for this purpose — and think about whether you could use extras like fabric lining to create a more luxurious feeling.
Other Details
As you're thinking about all the options you have when designing custom packaging, don't lose sight of what you're really trying to accomplish: creating something that will build your brand and make your products stand out.
You may be able to do this with simple designs and common materials like Amazon does with its ubiquitous boxes, or you might want something closer to Apple's iPhone packaging, with its puzzle-box of quality material creating a feeling of luxury before the device is even switched on.
But it's your product and your brand — it's up to you how to get where you want to go. Use this guide to get an idea of what's possible, but the best thing to do is get in touch with a packaging producer and start figuring out what's possible for you and your brand.

The Ultimate Guide to Custom Packaging
Finalizing the Design
Once you've figured out what you want your packaging to be made out of and how it will look, your production partner will generally put together an initial design and a quote for the price of the whole project. Depending on how involved your needs are, the initial design may come with a design fee, with subsequent revisions generally adding hourly fees.
Once that design is ready, you'll get a final quote on the production run, and your new packaging should be ready on the timeline you chose!
Are You Ready to Create Successful Packaging?
We hope this guide has helped you get a better sense of what you can do with custom packaging. If you're inspired to get started, just put together a quick explanation of what you want to make and reach out to a vendor like CustomUSB. Great branded packaging is closer than you think.