40 Of The Best Corporate Gifts For 2022

What is Corporate Gifting?
Corporate gifting is when you give gifts to anyone connected with your organization, such as clients, employees, potential customers or vendors, for the simple purpose of showing that you value them.
Corporate gifts can be any gift, in any budget. Appropriate gifts include useful, high quality items like power banks or phone chargers, gift cards, memberships, or even gift baskets or swag boxes that include multiple items with custom packaging for the ultimate unboxing experience.
Why is Corporate Gifting Important?
Businesses aren't that different from other kinds of relationships – connections need to be built and maintained with prospects, customers, vendors and more. Gifts are important in relationships because for many, it's their love language. A gift is a physical representation of the relationship and how you perceive the person you're gifting; it sends a message that nothing else can match.
Giving gifts will show people you care about them, particularly if your gift is sent in acknowledgement of a personal milestone or job well done. Gifts set you apart from competitors and make people feel like VIPs, which will make them stay with you longer in whatever capacity you work together. Gifts create a memorable experience and keep your company at top of mind for the recipient(s) so they can become brand ambassadors. They motivate employees, help gain on-the-fence prospects, and make clients feel like family.

How Corporate Gifting Elevate Working Culture & Increase Business
Corporate gifting is beneficial and, honestly, a necessary (though under-utilized) way for businesses who want to succeed in the 21st century. Gifting gives people a physical touchpoint that makes them feel valued.
The difference today from the past is that people are sick of being bombarded by generic marketing messages. When people feel like a cog in a machine or a number on a spreadsheet, they lose their connection, and you begin to lose them. In fact, a study showed that 68% of people leave businesses due to "perceived indifference". The way to keep them is through personalization of marketing. 90% of people like personalized marketing as opposed to the annoyance of generic marketing.
Corporate gifting is arguably necessary for employees as well. When employees are recognized, turnover rates drop, meaning people are happier at work and don't feel the need to look for other employment. Employee gifting can boost morale and productivity (31% according to one study), and 91% of HR professionals agree that recognition boosts retention.
Understand the Psychology of Corporate Gifting 
There is a positive psychological impact of receiving a physical show of the value a person has in the eyes of the gift giver. The Endowment Effect occurs when an individual values an item more highly when they feel a sense of ownership of that item. When you give gifts, people understand that they're an integral part of your company. Other psychological effects of gift-giving include:
Creating and maintaining relationships
Creating a sense of belonging and identity
Social custom – gift giving is a historical part of our culture
The experience of unboxing is memorable and creates a positive emotional connection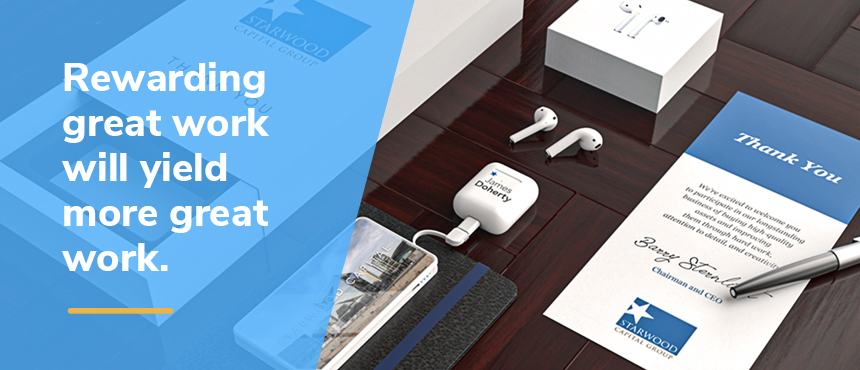 What to Consider Before Buying Corporate Gifts
Here are some things to consider before choosing gifts for employees, clients or vendors:
Budget: Make sure your gift(s) are on budget, and include wrapping and shipping in the cost.
Quality: People perceive the quality of the gift to reflect the quality of your company and relationship, so choose high quality.
Message: Make sure the gift is the right mix of sentimentality and fun, and is appropriate to the person and situation. Giving gifts that are useful, high quality, and that look good are a no-brainer. You can also personalize the gift, like putting someone's name on a mug.
Timing: Giving gifts when appropriate will give maximum impact and results. For example, 92% of employees will repeat an action if they received recognition for it, so rewarding great work will yield more great work!
Wrapping: Remember, opening the gift is half the fun of receiving a gift! Opt for custom packaging for a really special unboxing experience.
Top 40 Best Corporate Gifts Ideas for 2022 
Here are 40 of the best ideas for corporate gifting for 2022, so you can choose what fits your company and recipients:
1. Thank You Gift Basket
A gift basket is a time-proven way to say thanks or celebrate a milestone. You can choose a gift basket with food, a spa gift basket, or create your own.
2. Custom Power Bank
Everyone needs high quality power banks that will last to back up their devices in a pinch. This one is made with a high capacity 5,000mAh Lithium Polymer Battery, a built-in MicroUSB charging cable, and both Lightning and Type-C adapters hidden away. The body is made with durable high-impact plastic housing that comes with two customizable face-plates with full-color, edge-to-edge printing.
3. VIP Customized Apple Airpods with Wireless Charging
These Apple Airpods are packaged in a personalizable box that includes a customizable wireless charger that can be printed with your logo, photos and more.
4. Handmade Portrait Painting
Have a favorite photo of your client or employee hand-painted as a unique and sentimental gift, especially if they have a special milestone to celebrate.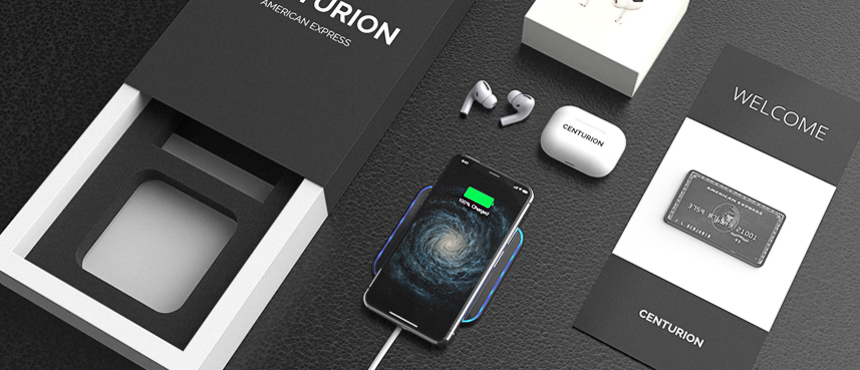 5. Company Labeling Earbuds
Earbuds with your company logo are an excellent gift idea for a group of employees, clients or vendors for things like celebrating a company milestone or onboarding new people.
6. Essential Air Purifier
Air purifiers are more common than ever, and keep people healthier and breathing easier. An air purifier that goes beyond with air filtering plus UV sanitizing, controllable fan speeds and energy conservation is a great gift for people who have breathing issues and allergies.

7. Custom Executive Pen USB Flash Drives
A custom-designed pen with a built-in USB drive is an excellent anytime gift idea. You can even design the pen itself with your own custom shape for really special occasions, and preload documents on the drive if you're giving a gift that includes info.
8. Daypack for Traveling
A travel daypack is a great gift idea for anyone who travels for work or pleasure, city dwellers, students and more.
9. Art Painting Set
If you know that the recipient of your gift loves art, giving them a painting set will add to their quality of life by giving them hours of relaxation and joy.
10. Digital Wifi Picture Frame
Digital wifi photo frames make it easy to upload new photos, and can be displayed at home or in the office, making them a perfect gift from your company.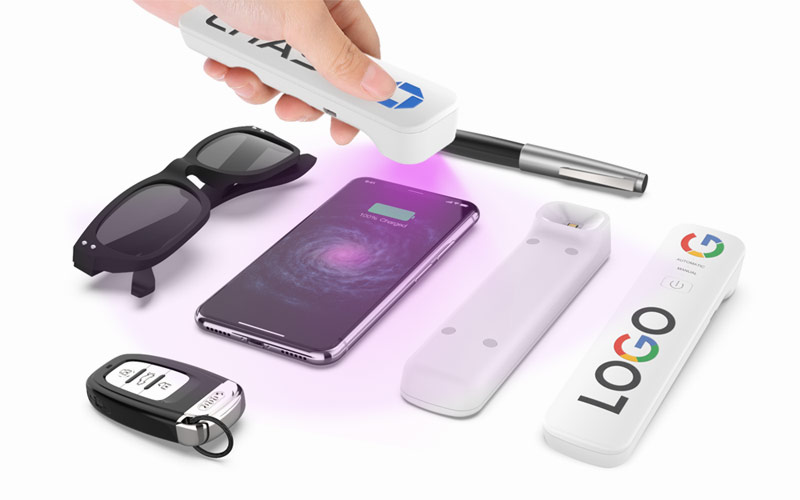 11. Custom Designed Health Kits
Now more than ever, companies should show they care about the well-being of their employees, vendors and customers. PPE will be appreciated since people otherwise have to buy this for themselves. Items like masks, no touch tools, UV phone sanitizers, hand sanitizer and even thermometers can be custom-designed and given in a custom kit.
12. Noise-cancelling Headphones
For employees who need to create silence while working, clients who travel or others, choose noise-cancelling headphones for a valuable gift most people will appreciate.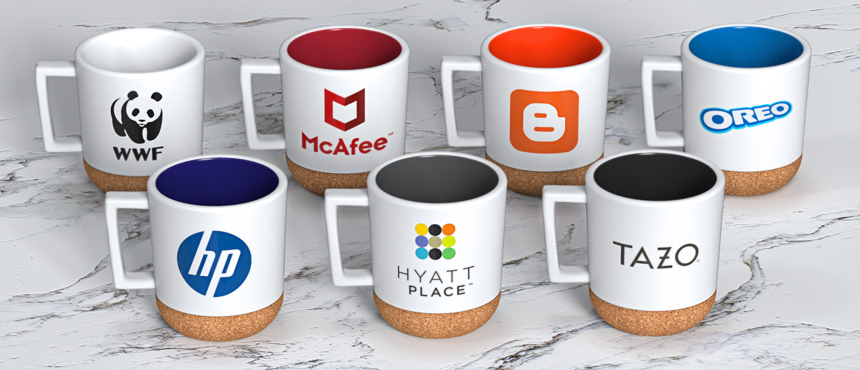 13. Personalized Thank You Coffee Mug
Literally say "thank you" with a personalized coffee mug that includes the recipient's name and a message! You definitely won't be forgotten when your mug becomes their favorite one, because it reminds them that they're valued – plus, this one has a cork base so it doesn't require a coaster.
14. 100 Things to Do Bucket List
Let people know you support their hopes and dreams with this bucket list scratch off poster. For any adventure seeker, travel lover or anyone who wants to do more with their time away from work, this is a perfect gift to encourage them to try new things.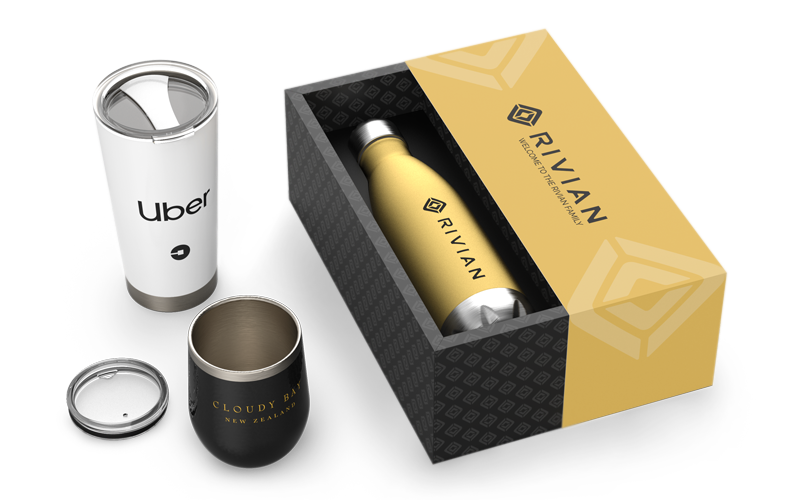 15. Awesome Custom Designed Drinkware
Mugs and water bottles are a well-loved gift idea, and something you really can't go wrong with – but why not make it the best it can be? There are all kinds of drinkware available so you can pick what best fits your recipients, from ceramic mugs, to stainless steel-insulated tumblers, to water bottles and more, all of which are customizable.
16. A Book Set of Interest
An excellent way to show you know someone well through a gift is to curate a set of books that either have to do with subject matters of interest, like cooking or gardening, books by their favorite author, or books you've heard them talk about. See if they have a wishlist on a site like Goodreads if they're an avid reader.
17. Mini Wood Heart
For a gift that's sure to find a place of display in the office or at home on a bookshelf, desk or other surface, a piece of wood decor like this mini wood heart that holds a message is a meaningful idea that will remind them constantly of their value to you.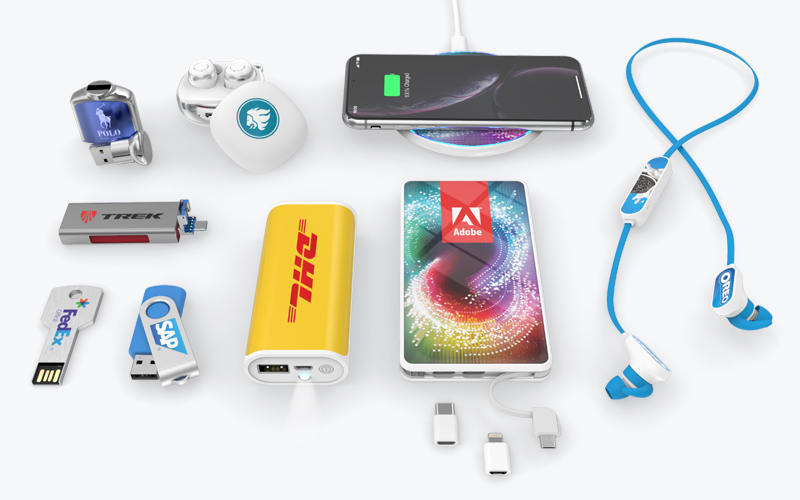 18. Custom Tech Accessories
A budget-friendly gift idea that people will love are custom tech accessories that you can design with your logo or message and give individually or as part of a custom kit. Accessories like popsockets can be given to a large number of people easily for big celebrations, webcams and webcam blockers can help people with things like Zoom calls, and USB cable kits, coasters, bottle openers and more can make great gifts alone or as part of a custom kit.
19. Paperwhite Reader
Another excellent gift idea is a paperwhite e-reader, which has a screen meant to mimic paper so it's easy on the eyes and has adjustable settings for brightness and print size. It can be used for book-lovers as well as work or school, because pdfs and books can be easily uploaded.
20. Travel Duffle Bag
A high-quality duffle bag that's up to date on style is a gift you really can't go wrong with. Whether people are using it for travel, the gym or other things, a nice quality bag is always a welcome gift.
21. Thank You Cuff
If your gift is going to a jewelry lover, a cuff bracelet is a great choice because it can be made to fit any wrist size, plus it can hold your thank you message as a reminder of the recipient's value to you.
22. A Gift Card for Buying Something Special 
Who doesn't love a gift card? Make sure you know the person's favorite shop or restaurant, or you can give pre-loaded credit cards. A simple "thank you" that a gift like this expresses goes a long way.
23. Party Pleaser Food Gift Basket
For a food-centric gift basket that really has it all, Party Pleaser baskets are a major haul of all the snacks you can think of to give them snacks for days! Just check for food allergies before gifting.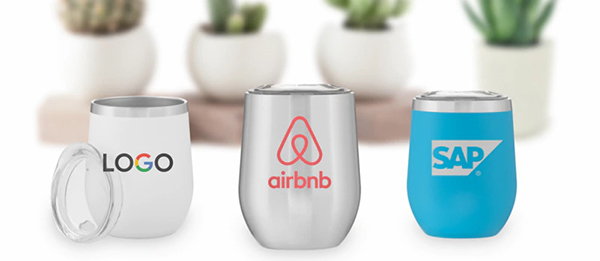 24. Wine Tumbler
For anyone who loves wine, give a stainless steel insulated wine tumbler with a lid so they can enjoy their wine from their home to outside on a picnic. You can even personalize the tumbler and box with their name for a high-quality, ultra-personal gift with a unique unboxing experience.
25. Personalized Insulated Water Bottle 
Personalize a YETI water bottle with the recipient's name or other message, along with the box, for a high-quality gift that literally everyone can love.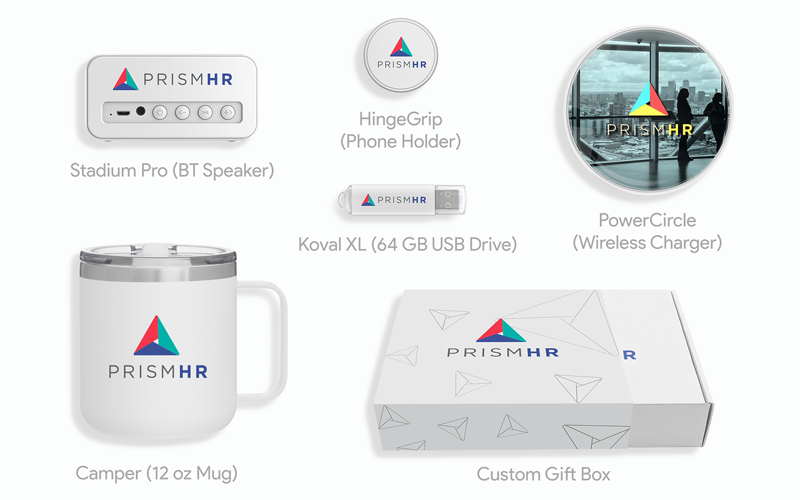 26. Custom Swag Box
People love gifts in any quantity, but multiple gifts creates multiplied excitement, and add in personalized gifts in custom packaging and people will remember their experience for years to come, all while having items they'll use every day to remind them how much they mean to you! You can create custom swag kits in different varieties and include smaller and larger items, like grouping a custom YETI tumbler with a bag of coffee, a personalized note, a coaster and a portable bluetooth speaker, for instance.
27. Gardening Tools Bag Set
A gardening bag set is perfect for any gardener because the bag keeps all their new tools in one place.
28. Tea Infuser for Tea Lover
Tea lovers will truly appreciate any kind of tea infuser, including a french press for tea leaves, so they can more fully enjoy their favorite beverage.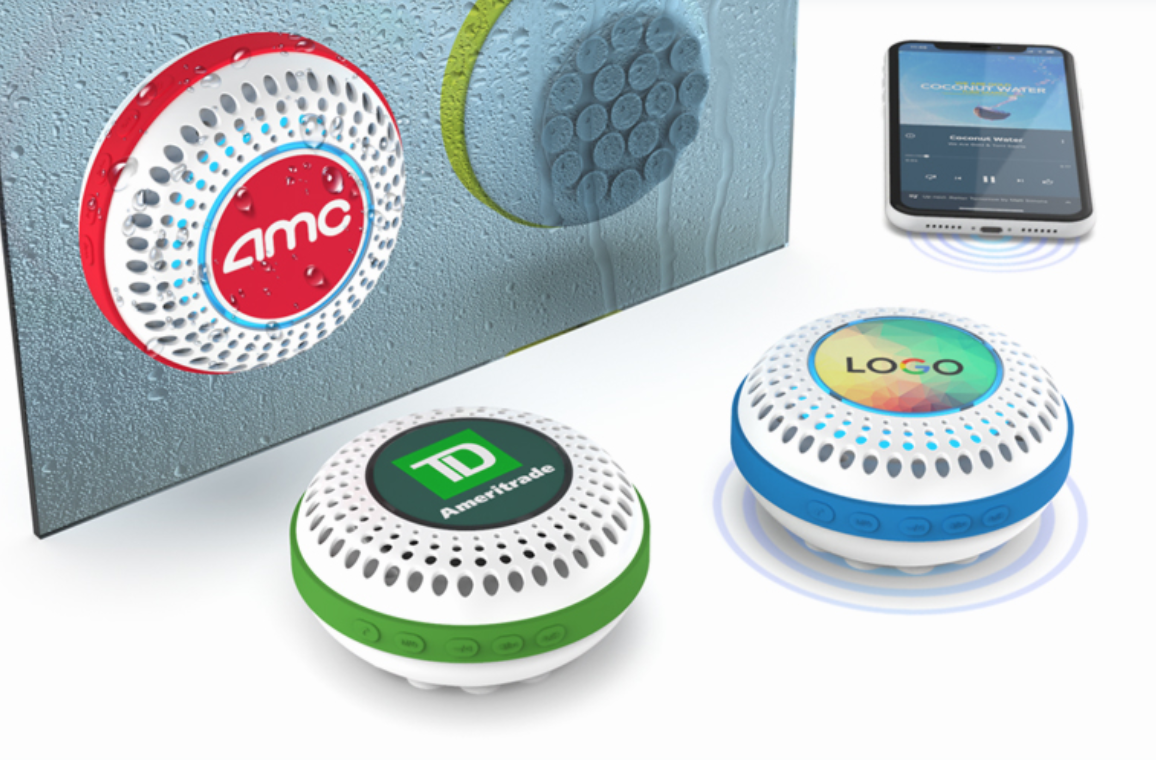 29. Portable Waterproof Bluetooth Speaker
Customized portable bluetooth speakers are another crowd-pleasing gift. These are waterproof, which makes them extra portable and durable.
30. Philosophy Thank You Gift Set 
In this time of ubiquitous hand sanitizers, moisturizer is needed more than ever. A gift set with quality lotion that actually says "Thank You" is a perfect way to give something that people can use. Just make sure they don't have allergies to any ingredients first.
31. Meditation Cushion Set
Meditation makes people's lives better, so you can lend some encouragement to anyone who already meditates or aspires to do so with a cushion set.
32. Succulent Garden
A small succulent garden gift is a great way for any plant-lovers, or even those not great with plant care, to enjoy some natural life in their home or office, because they don't need to be watered often.
33. Personalized Grill Set
A personalized grill set is sure to beef up the party for any grill-loving clients or employees out there!
34. Fit Bit Inspire 2
Most people love their fit bits, and it's fun to track activity, heart rate, sleep and more. The Fit Bit Inspire 2 ​​is an entry level fitness tracker, so even people who haven't used one before, but may be curious, can see what it's about.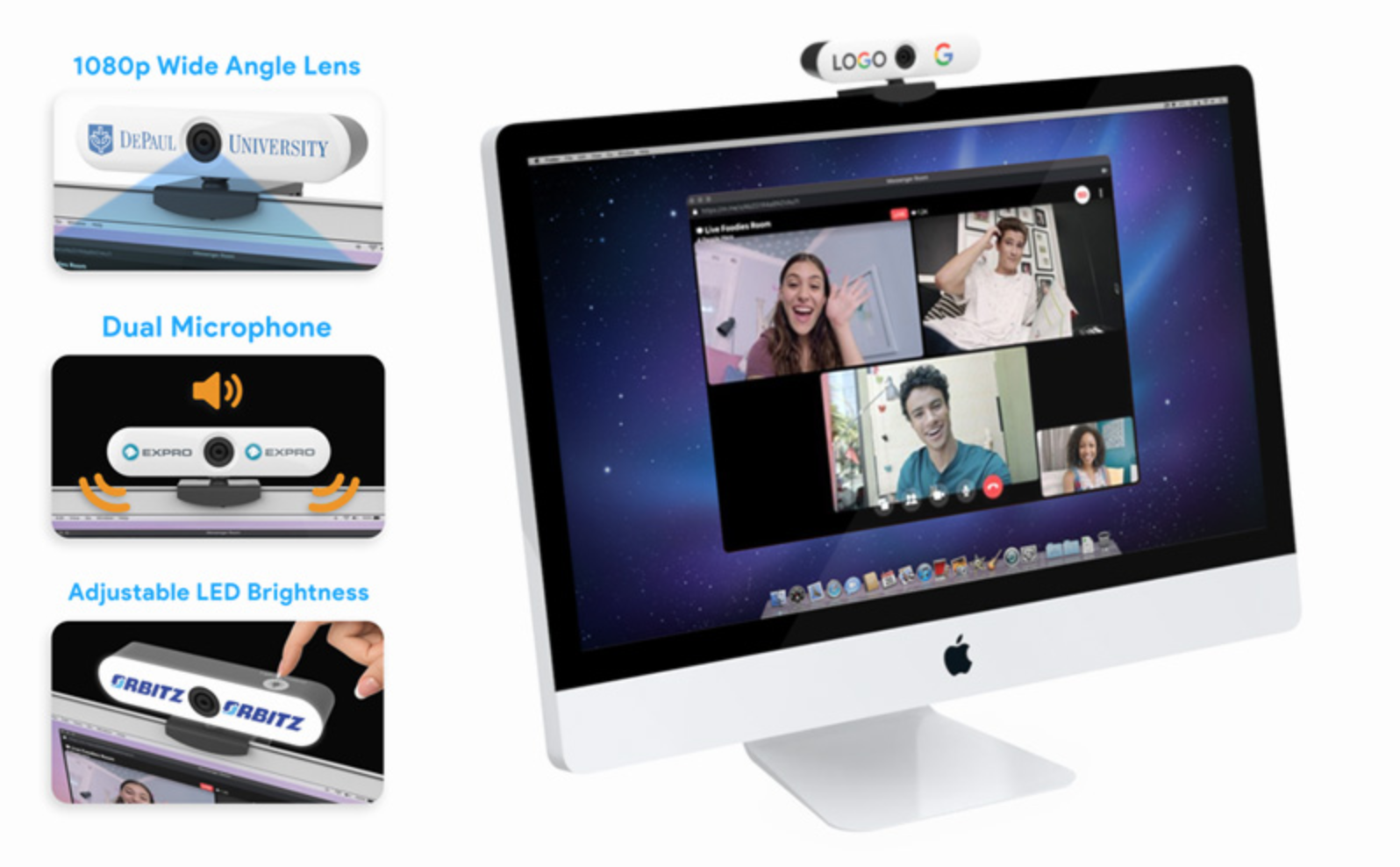 35. Light-Up 1080P Webcam
This webcam comes with a light and 3 levels of brightness, plus a multidirectional microphone, so you can help your employees and clients feel and sound better on those Zoom meetings.
36. Engraved Whiskey Glass
Perfect for a really special occasion – and whiskey drinkers, of course – are engraved whiskey glasses that will become a treasured possession for many years to come.
37. Personalizable Trinket Dish 
Gift these unisex leather catchall dishes and personalize with names, your company's name, or anything that is suitable for the occasion, for a gift everyone will appreciate when they finally have the perfect spot for keys or jewelry.
38. Travel Hammock
Eno has the best hammocks out there that are perfect for any adventure, close or far away.
39. Portable Vinyl Player
Send people back in time with this portable vinyl player so they can play music their favorite way all the time, anywhere they go – they can even play on headphones or a bluetooth speaker, so they never have to leave their vinyl again! Just make sure they're into vinyl for playing music before gifting.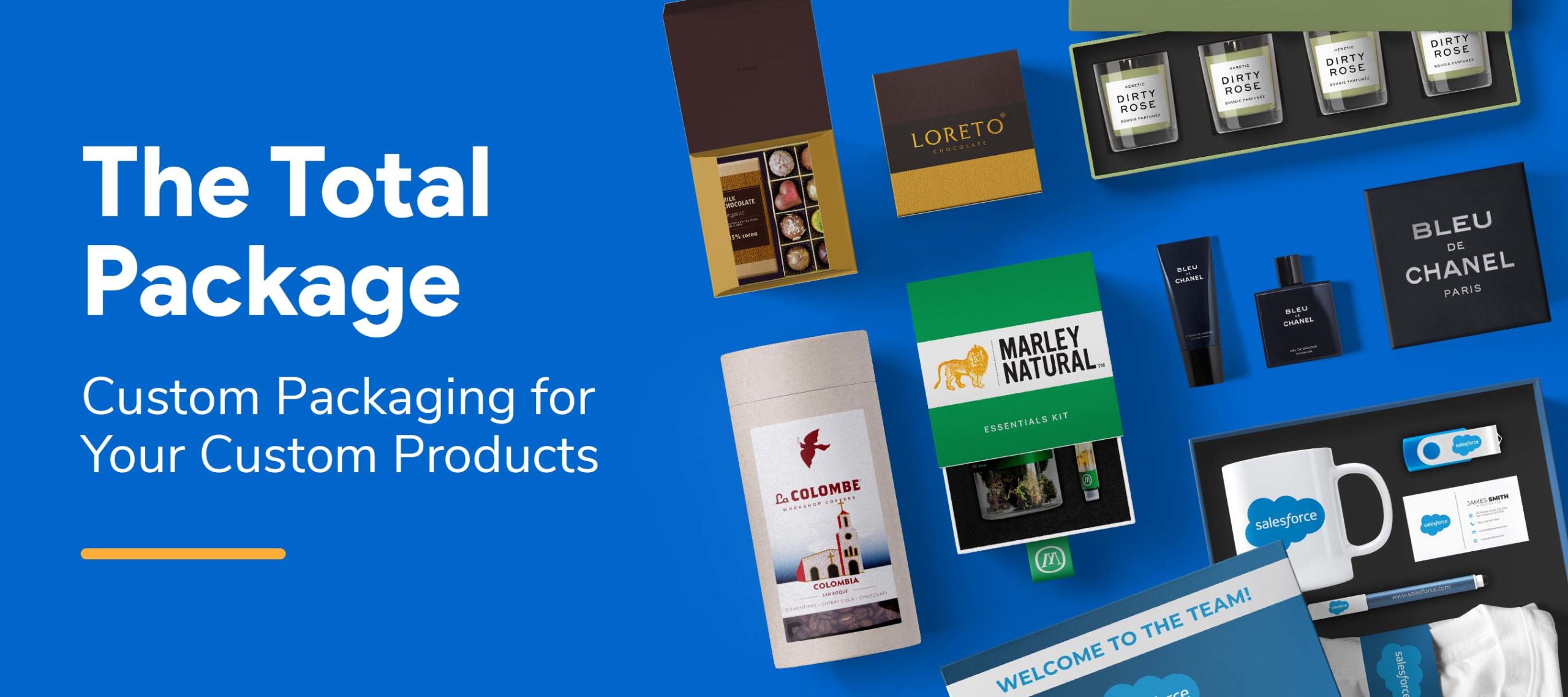 40. Think Inside the Box: Custom Packaging
We've mentioned custom packaging throughout this article, and there's a reason it's showing up again with – it's really, really impactful. People love opening gifts, and the unboxing experience is a huge part of the experience and memory created. Here are some of the reasons:
Over 60% of online shoppers say custom packaging makes them excited about the product and makes the brand seem more valuable.
According to a 2016 study, the majority of US online buyers say custom packaging adds value, and would become repeat customers of brands with specialized, printed packaging.
Without custom packaging, the product is more likely to lose perceived value.
You'll get more free advertising from people who share their unboxing experience with others, in person and on social media.
Custom packaging will add to the feeling of exclusivity and the emotional connection you have with the gift recipient.
CustomUSB custom packaging is sustainable, and 83% of Millennial and Gen Z consumers say they're willing to pay more for sustainably packaged products, while 67% of customers surveyed in various countries say that recyclable packaging is an important part of their purchasing decision.
When giving corporate gifts, your gift is going to people who mean a lot to your business – employees, clients and vendors. Custom packaging creates exclusivity and allows you to really show people that you appreciate them.
Conclusion
Corporate gift giving can be a breeze when you know how to do it right, which hopefully this guide helped with! Gather your budget, info on who you're gifting and create a strategy, then choose high quality items and wrap with sustainable custom packaging and voila – you're done! Plus, your efforts will be rewarded back to you as well. Whether you're gifting employees, who will stay at your company longer and be more motivated to do their jobs, or gifting clients, who will remember you for their next purchase and become your biggest brand ambassadors, you'll certainly see the emotional connection and mutual appreciation grow with these relationships. If you want some help or advice, don't hesitate to contact us!