CustomUSB Launches Light-Up 1080P Webcam with built-in microphone
If there's a tech need nearly all your clients and employees are going to have to meet in 2021 and beyond, it's better webcam lighting and sound. CustomUSB is excited to announce the launch of our Light-Up 1080P Webcam, designed for high-quality video conferencing and with plenty of space for your logo and messaging to shine.
Whether your company is giving away promotional products at an event, for an employee incentive, or as part of a promo kit, the Light-Up 1080p Webcam will give you more space for your brand to make impressions. Since the vast majority of people have built-in webcams on their computer already, many people don't realize they need a better one, or maybe they do and aren't willing to take the time or money to purchase one for themselves. CustomUSB's new webcam will give your brand the high quality it deserves with superior image, lighting and sound quality wrapped into one tech product, with utmost visual prominence during computer time.
A regular webcam, meaning one that comes with a computer, does not include lighting. Setting up your computer where the light comes from behind, and from multiple angles, is necessary for people to look professional. However, this can become a task in and of itself to find the perfect spot with a decent background and proper webcam lighting. Everyone will benefit from the Light-Up 1080p webcam, a high-quality all-in-one webcam with lighting and microphone. The webcam clips to the top of a screen and does not require a driver, making it simple to use. All of these are opportunities for your brand to continue to make impressions with a print area of 1.77″ x 0.67″, which will stand out whenever someone uses their computer for video conferencing or recording.
Whether you're looking to celebrate an event, welcome new employees or do a giveaway, our Light-up 1080p Webcam is the perfect option for anyone who:
Attends online zoom meetings, conferences and events
Lighting is extremely important for Zoom meetings and video conferences of all kinds. Low and poor lighting puts people in negative moods because of the lack of melatonin release, according to "Action spectrum for melatonin regulation in humans", a study that showed the connection of lighting on platforms like Zoom to the effect of gloomy weather on our moods. Lighting can affect how "boring" your meeting or event is perceived by attendees. Even for Zoom meetings this can mean better lighting will result in better participation and productivity!
Works remotely, whether permanently, temporarily or part-time
33% of US workers always work remotely, and 25% sometimes work remotely. Two-thirds of employees in the United States that are already remote employees would like to continue working remotely. In addition, the US Bureau of Labor Statistics found that 37% of US jobs can be done completely from home.
Even though the amount of remote workers have gone down since April 2020, the amount of remote workers is on a slower increase in general: remote workers had already increased by 140% from 2005-2019.
Anytime remote workers get on a Zoom meeting or attend an online conference, your logo will be directly visible in their line of sight and they'll know who to thank for their superior quality video, lighting and sound.
Anyone who uses video chat on their own time with family and friends
Whether it's to visit family online or to attend an online conference for a non-work related event, anyone can benefit from having a better webcam lighting setup. Four out of 10 people are using video chatting for the first time in the last year.
41% of workers never work remotely, but these people still have or will have a need for video chat capabilities.
All ages of people will benefit from better image, lighting and sound on video chatting, from professionals to a grandparent seeing their grandchildren.
People who film videos for YouTube, live streaming, conferences and more
Unless you're wanting to make a living making the highest-quality videos from your computer, anyone can benefit from having a lighted webcam to increase their video quality. Since basically anyone can make videos on YouTube and live stream, choosing a light-up webcam for your next promotional giveaway or to include in a tech kit is an excellent idea.
Even if someone chooses not to use the webcam, they will likely give it to someone who will. All of these people will have your logo or brand message literally right in front of their eyes each time they use the webcam, as well as anyone else with them!
Key features and benefits of the Light-Up 1080P Webcam
The Light-up 1080p Webcam is a perfect way to represent your brand. It is at the top of the market for many reasons, including:
HD camera with 1080p resolution
1080 is the perfect resolution for a quality promotional giveaway that is the most likely to be used across the board for an affordable price. 720p is too low, and 4k is more than is needed unless you're wanting to have a professional capacity webcam setup, in which case you might as well buy an actual camera.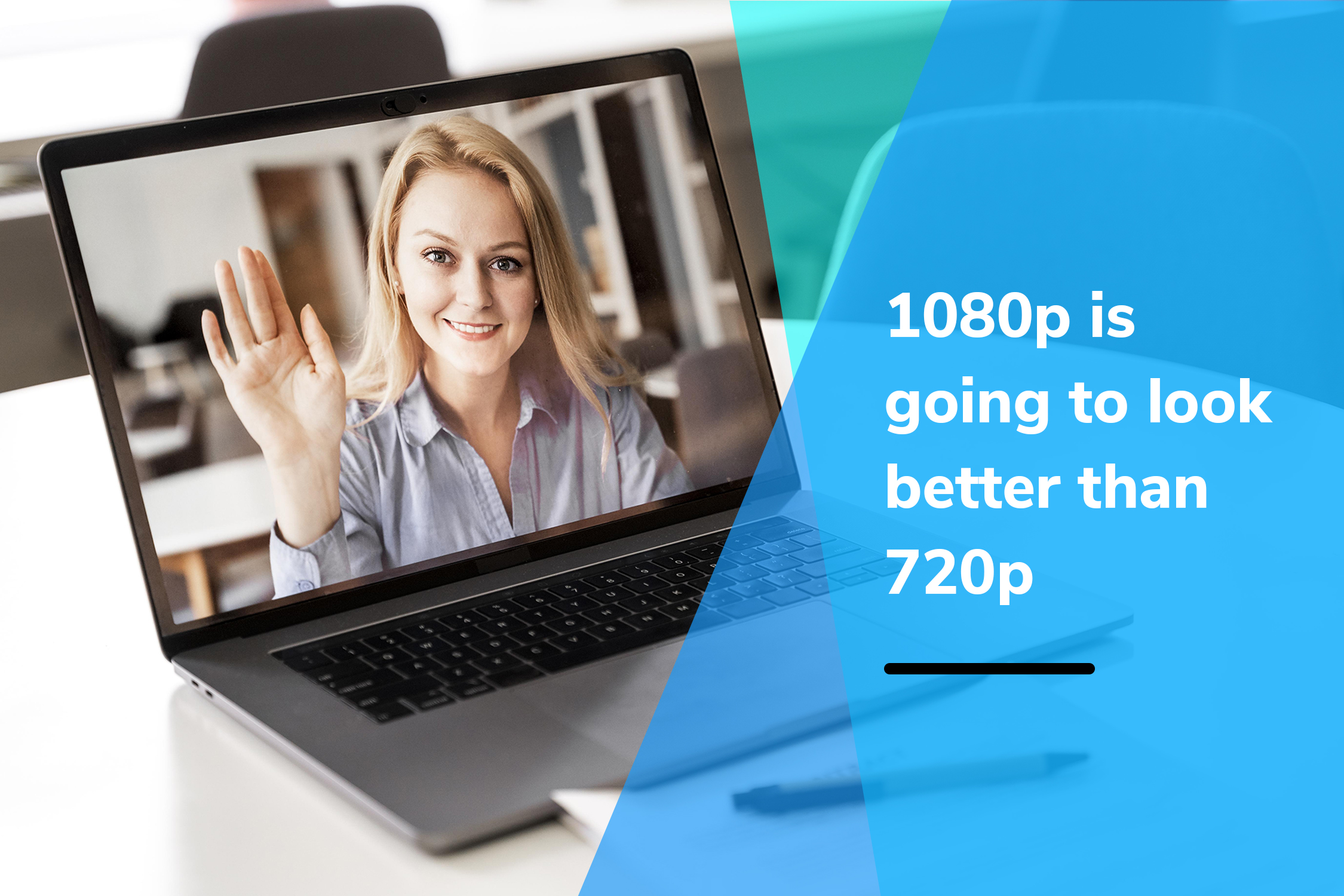 Lighting: 3 levels of brightness
Lighting includes 3 levels of brightness, so you can adjust to your settings or to incorporate other lighting sources. For an all-in-one webcam, having 3 levels of brightness to choose from is ideal, since everyone's setup will be unique and video conferences can happen at any time of the day with all kinds of outdoor weather conditions or indoor lighting situation.
Delivers a clear and high-color image
The lens quality is another aspect of a good camera. The image delivered should be at least as clear as your own computer's webcam, and it should adjust the color to optimize the image.
Includes an omnidirectional dual noise-reduction microphone
Omnidirectional microphones stand out from other kinds, like unidirectional mics, for webcams for many reasons, such as:
they have less background and wind noise;
they take out the loud effect from plosive sounds that come from letters like "B" and "P";
They remove excess bass boom sounds that happen when someone is close to the mic;
Since it carries less low frequency, it eliminates sounds that come from handling the mic or other movements;
It catches noise from distances and directions, so if someone gets up to walk around they can still be heard;
These mics are used more often by musicians, so if you're playing music for an event, it will be heard better.
Custom USB is proud to introduce the Light-Up 1080P Webcam as our latest promotional tech addition. To sum up, anyone can benefit from a light-up webcam with 3 light settings plus microphone, whether they work remotely or not. In addition, people will continue to have more of a need for this product, so it's a fantastic choice as a promotional item on its own or as part of a kit.
Giving away a webcam as a promotional item is an excellent strategy to utilize repetitive advertising in proper proportions. People will be thanking your brand for the webcam's quality whenever they use it. This positive association will lead people to remember your business so it will be top of mind when they're ready to make a purchase. CustomUSB is ready to help with any design needs or order size, and we can get your product delivered as soon as next-day!