How to Customize Your Flash Drive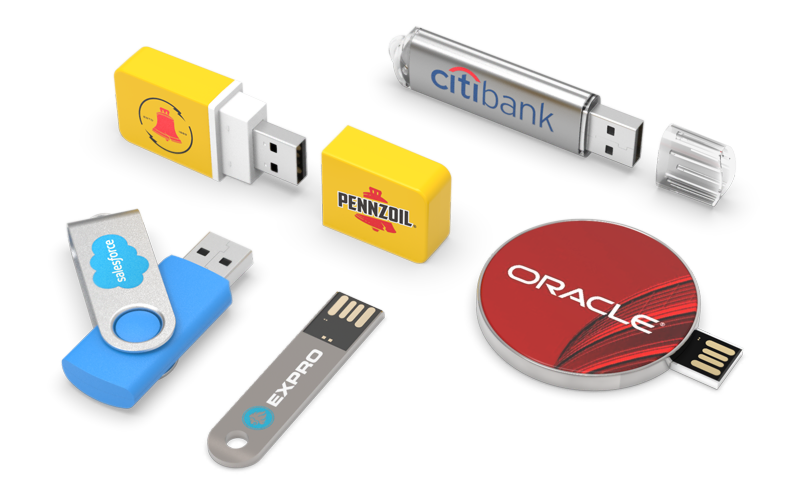 Flash drives aren't going anywhere. This is because they're the best and easiest way to transfer and store files. They're more effective for giving files to people at trade shows, events and client-based businesses than paper, which is wasteful and more likely to be thrown away.
Because of the extreme usefulness of USB drives, plus low cost, long lifespan for most users, durability and portability, they remain one of the most effective promotional items for businesses, and customizable products for personal uses and events.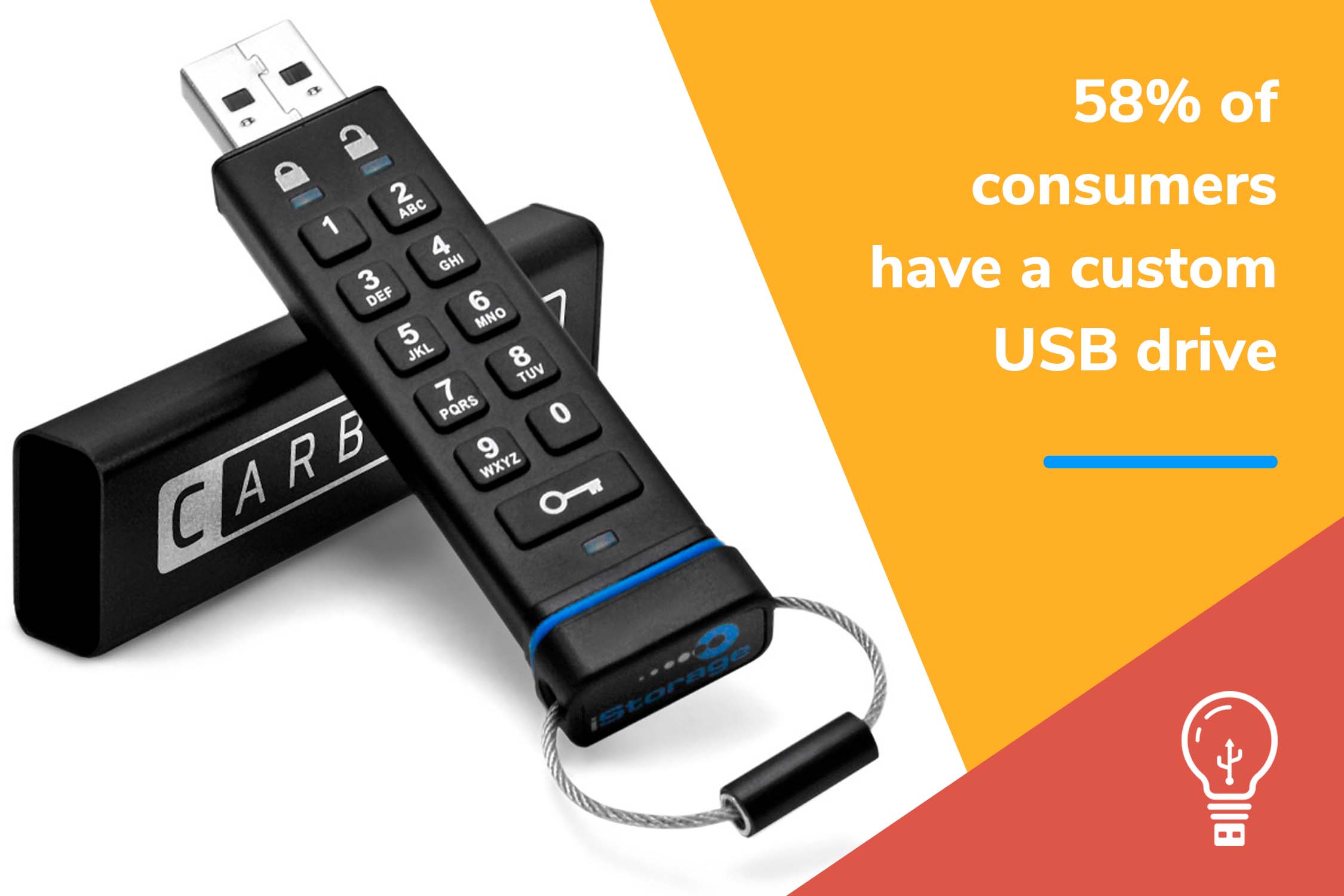 Check out these statistics that we're constantly mentioning here at CustomUSB that prove the effectiveness of this small, but mighty, product:
The compound annual growth rate for global encrypted USB flash drives is expected to be 7.1% from 82 million in 2019 to 136.5 million by the end of 2026.
The number of lifetime impressions for one USB flash drive is 700.
A promo USB drive that costs $5 will have a CPI of only 7/10 of a cent per impression, according to the API Study.
58% of consumers have a custom USB drive.
People keep custom USBs for an average of 13 months, and 43% keep them for 2 or more years.
Wondering how to customize your flash drive to get the most benefit? The USB should be easily identifiable so people can find your files, and so you can create memories and/or build brand impressions, depending on your purpose.
Why Are You Looking To Customize A Flash Drive? 
The first step to customizing your flash drive is to write down your purpose. Is it a trade show giveaway? A family reunion? To give files to current clients? Whether your flash drives will be used for business or personal reasons, this will tell a lot about how to customize the drive to optimize benefits.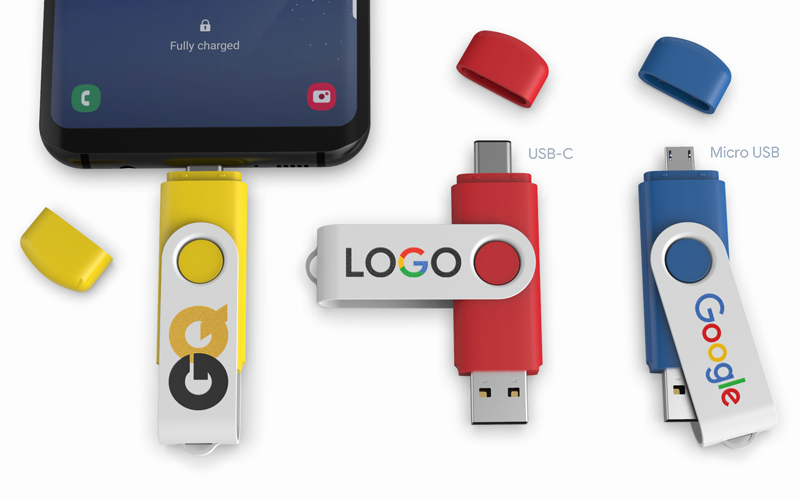 Business Needs?
Business needs for custom USBs include client-based businesses and promotional needs.
Client-based businesses include photographers, lawyers, real estate agencies and more, and USBs can be used to give clients files and photos. Putting your logo on the drive makes it easy to find and also gives added promotional benefits, so more people can learn about your business.
Really, every USB that is customized for a business is promotional, but sometimes the entire purpose is for promotional reasons, like at a trade show or giveaway. It's a great use of a USB, too, because not only can you load files and save paper, but the recipients can use flash drives for 10+ years on average, so that's a lot of time for a relatively low cost. Flash drives will generate over 700 impressions in their lifetime, according to the API study, which also found that 58% of people own promotional USBs, and that promo flash drives are usually kept for an average of 13 months – but, 43% of people keep them for 2 years or longer. If someone doesn't want their USB, they're likely to give it away rather than toss it – almost half of people polled said they would give it away. All this extends the circle of people seeing your logo.

Personal Needs?
There are all kinds of reasons to choose flash drives that aren't business, such as:
Party favors for bachelorette parties – or any party – which could include photos or details (like things for the wedding in the case of a bachelor/bachelorette);
Family reunions, with files of genealogy or other useful info about the place where the vacation is happening;
Weddings or other catered events with a photo or the initials/names of the couple or hosts;
Gifts or stocking stuffers for holidays or other reasons, using custom flash drives with photos or other memorabilia for the design and possible files included;
For family, or for yourself to have a customized flash drive for your own personal use.
How to Customize Your Flash Drive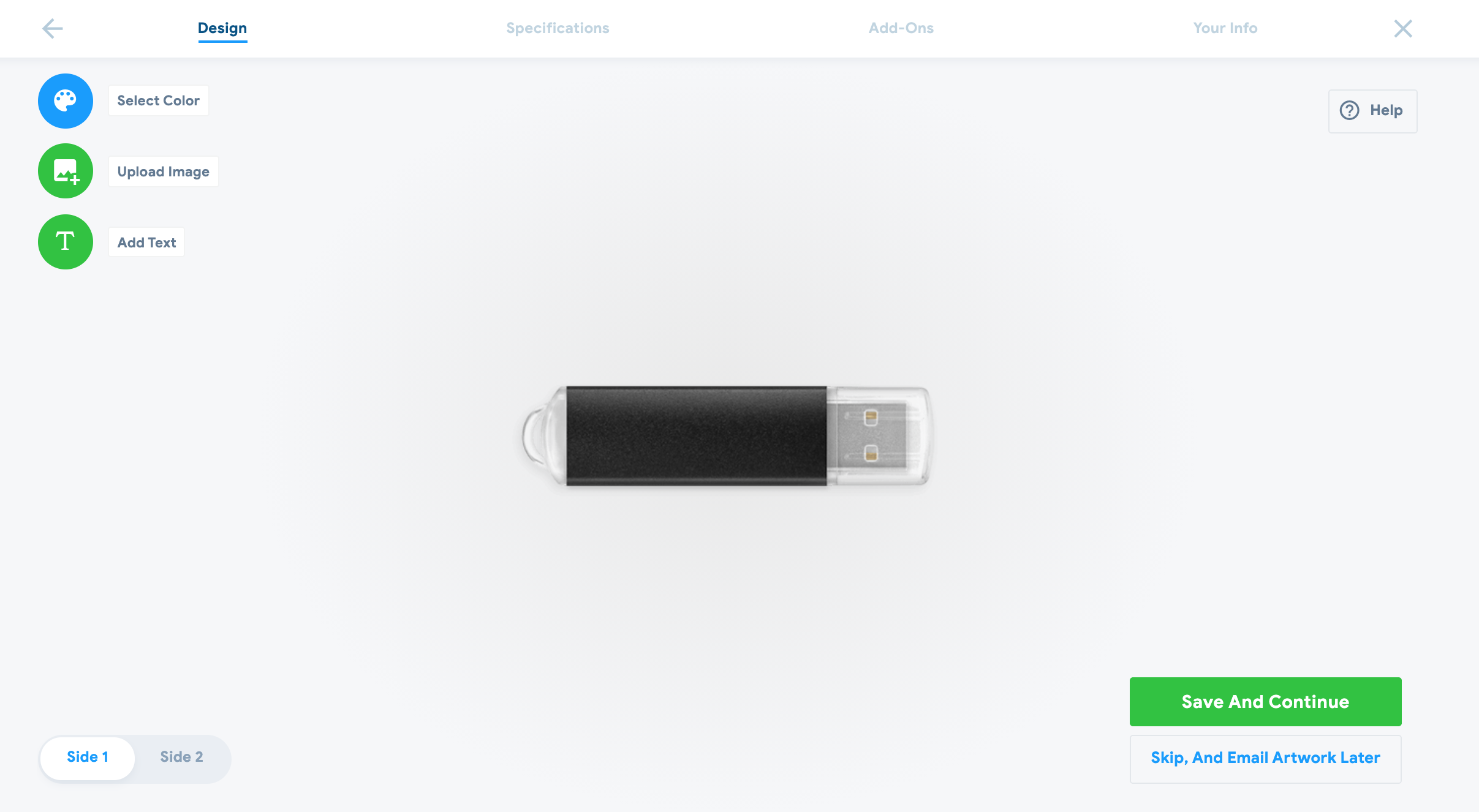 CustomUSB are trusted experts in customizing flash drives for any purpose, and we're here to share our expertise to make your unique USB to your specifications and to fit the purpose intended!
Here's how to design your very own custom USBs:
You Can Design Your Own Drive
With CustomUSB, you have the ability to fully customize any flash drive you choose, and we have another post on exactly how to design your USB.
Here are the steps in summary:
Consider your purpose and budget so you can choose the right flash drive;
Imprint size and messaging needs – many of our drives have 2 print areas, so decide what the best messaging is for each area;
Color and design: they really matter, because they determine what people think of you in the first 90 seconds of viewing;
Memory size: we recommend no less than 4GB, but can be more depending on if you're adding files and your budget.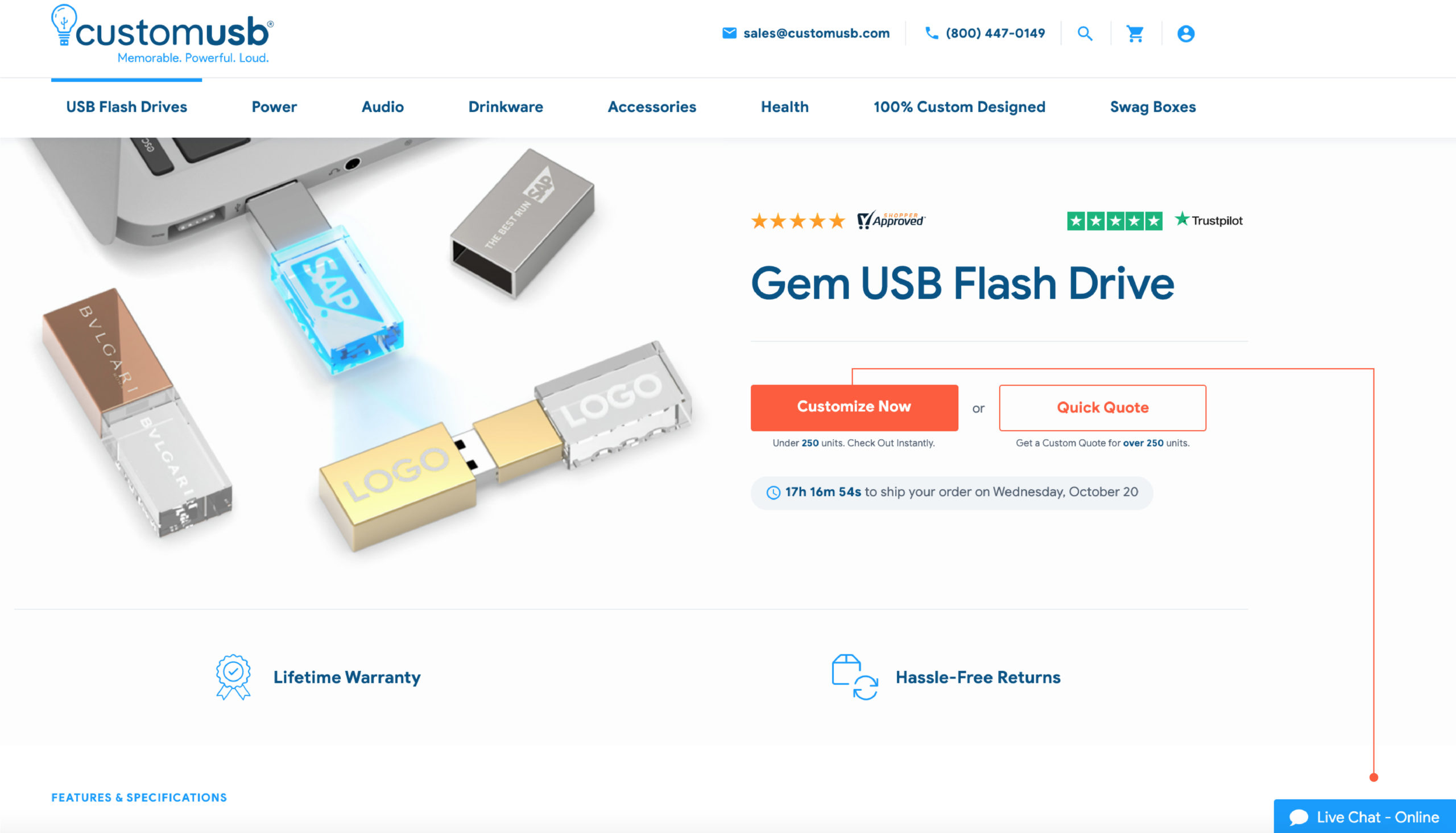 The sky's the limit when designing flash drives, so when you design it yourself you can have full control and it can fit your brand, your individuality or whatever else fits your purpose. If you find yourself needing help or just wanting to run ideas by someone, we have a team of designers ready to assist. Just click on "Chat Now" and we'll connect you with someone who can help.
There Are A Ton Of Innovative Ways To Have A Custom USB With Us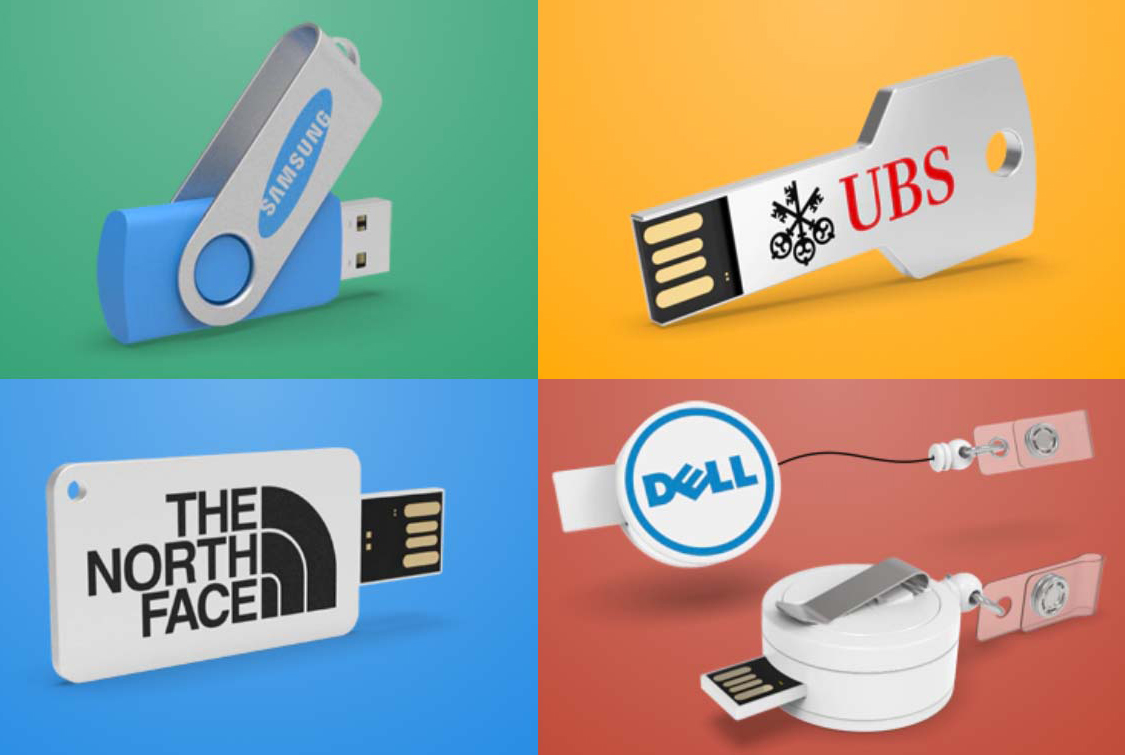 There are so many options for customized USB design, from executive pens, to business cards, to bottle openers, lanyards and more unique options. Almost anything can be made into a USB that can become a useful small billboard for your company, or a piece of treasured memorabilia from your event.
Designing a unique USB is important so that people can have a product that stands out, but also carries the message of what the flash drive is for or from, so they'll want to keep using it. This includes the USB design you choose, such as:
The popular and useful spin drive which can be used to share files for practical purposes and for a really usable and durable option;
The key drive which can be used by real estate businesses or vacation rentals;
A business card flash drive like this one that can be used to be so much more valuable than a traditional card, and can hold files for your business to give to clients and potential clients;
The badge reel USB for new employees or events where people need name tags;
And many more possibilities to fit your needs!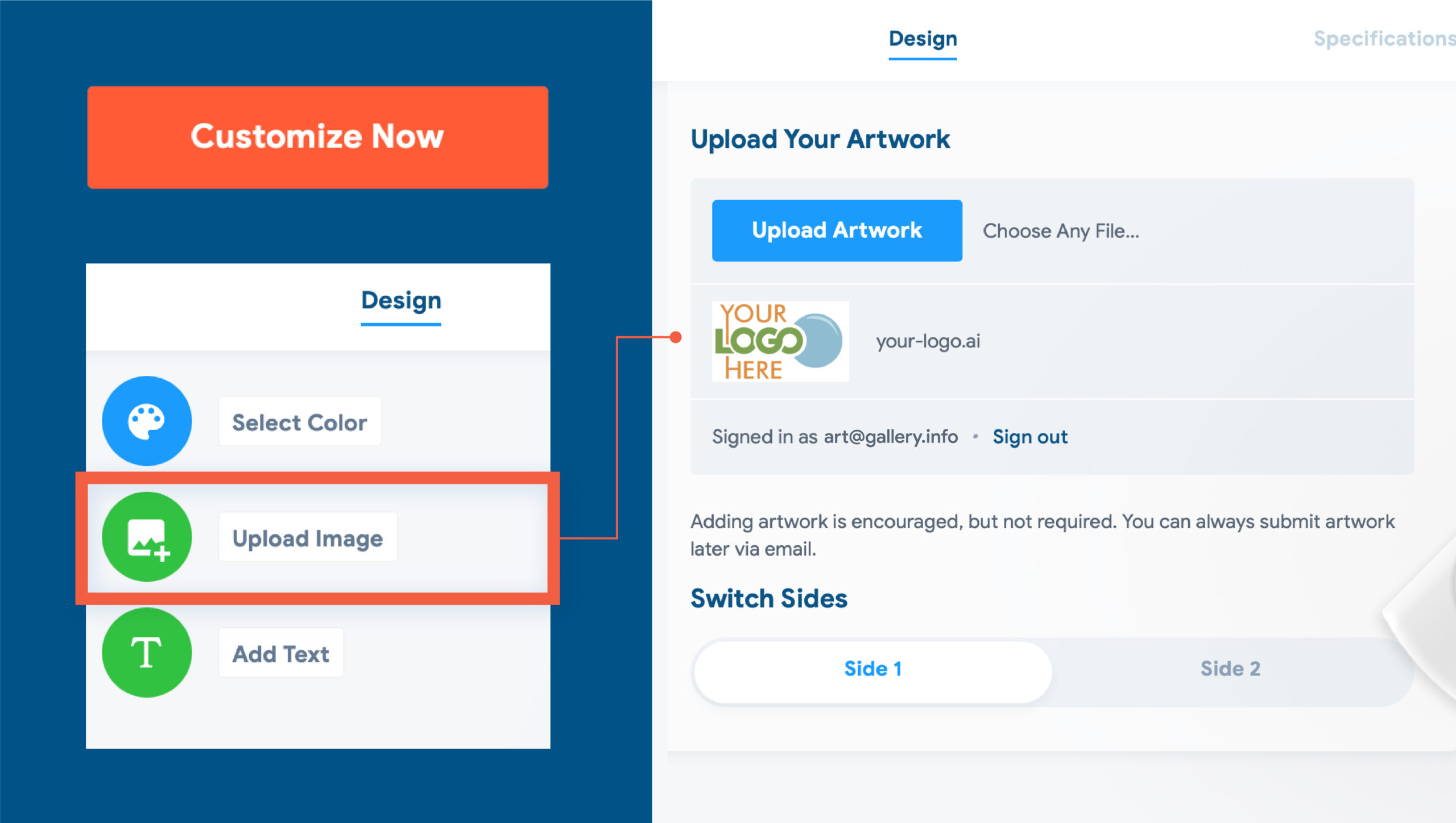 Once you choose a style, click on "Customize Now" and place your logo, image or text on the printable areas and choose your color(s). Our design team can help you or you can do it all yourself. Make sure the information you include is evergreen since people will have the flash drive for many years; also, make sure that it's something that can be useful if the drive is given away to someone else, especially if you're a business. It should communicate your identity and make people want to see more of what you're about if you're a business, or make people want to relive memories from personal events.
Feel free to click on "Customize Now" and play around with the design to see if you can find something that works for your next event or giveaway!

Customized USB FAQs
What is a USB flash drive?
Oxford Dictionary defines a flash drive as "a small electronic device containing flash memory that is used for storing data or transferring it to or from a computer, digital camera, etc."
More specifically, flash drives use a USB Type-A plug that is included in the drive. The way they work is comparable to SSDs (Solid State Drives), which also use flash memory and do not include movable spinning disks or read-write heads, making them more shock-resistant. However, SSDs aren't portable, and they are not suitable for storing data for long periods of time because they wear out.
Flash drives are superior to hard disk (HD) storage and optical storage devices (like CDs and DVDs) because they have more portability and durability due to their stable parts and long-term storage capacity (if used correctly).
How much memory do I need?
We recommend no less than 4GB so people have space to store and transfer enough files. It will need to be more if you're sharing photos or videos since they take up more space, or if you have a larger number of files to share, because you want to leave extra space if people want to keep your files plus add their own. A flash drive should be useful to the recipient for their own use as well as yours. We can help you pre-load files, so if you want to know how much space you need, just click on "Chat Now" and we can help.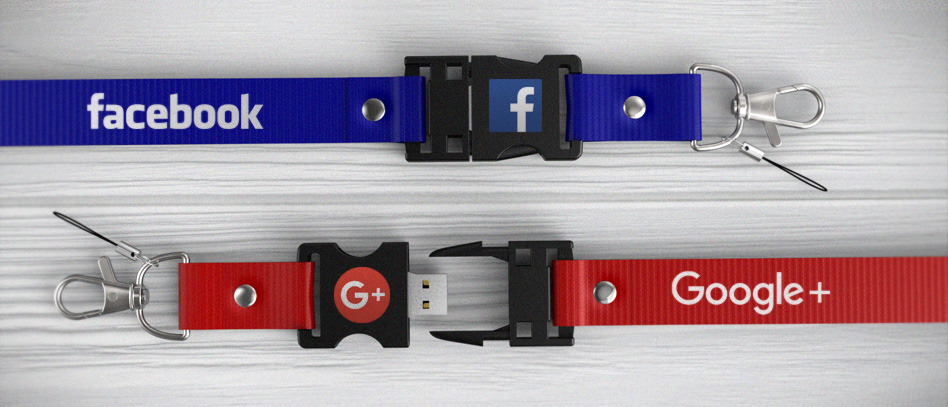 How long do USB drives last? 
A flash drive should last at least 10 years, and hopefully many more, but that depends on the quality of the flash drive and how it's used and stored. For further details and to learn how to extend the life of a USB drive, read our article on this topic.
Do you provide any warranty?
Yes, CustomUSB provides a lifetime guarantee on all products. If there's a problem just contact us and let us know, and we'll help you return, replace or fix your product.
I want to preload my promotional USBs with relevant content, is that possible?
Yes, we offer a preloading service to save you time, especially on bulk orders. When you customize your drive, just check the option to preload content and you'll be able to upload your files for us to include on your flash drives.
I'm not tech-savvy, what's all about USB 2.0 and 3.0?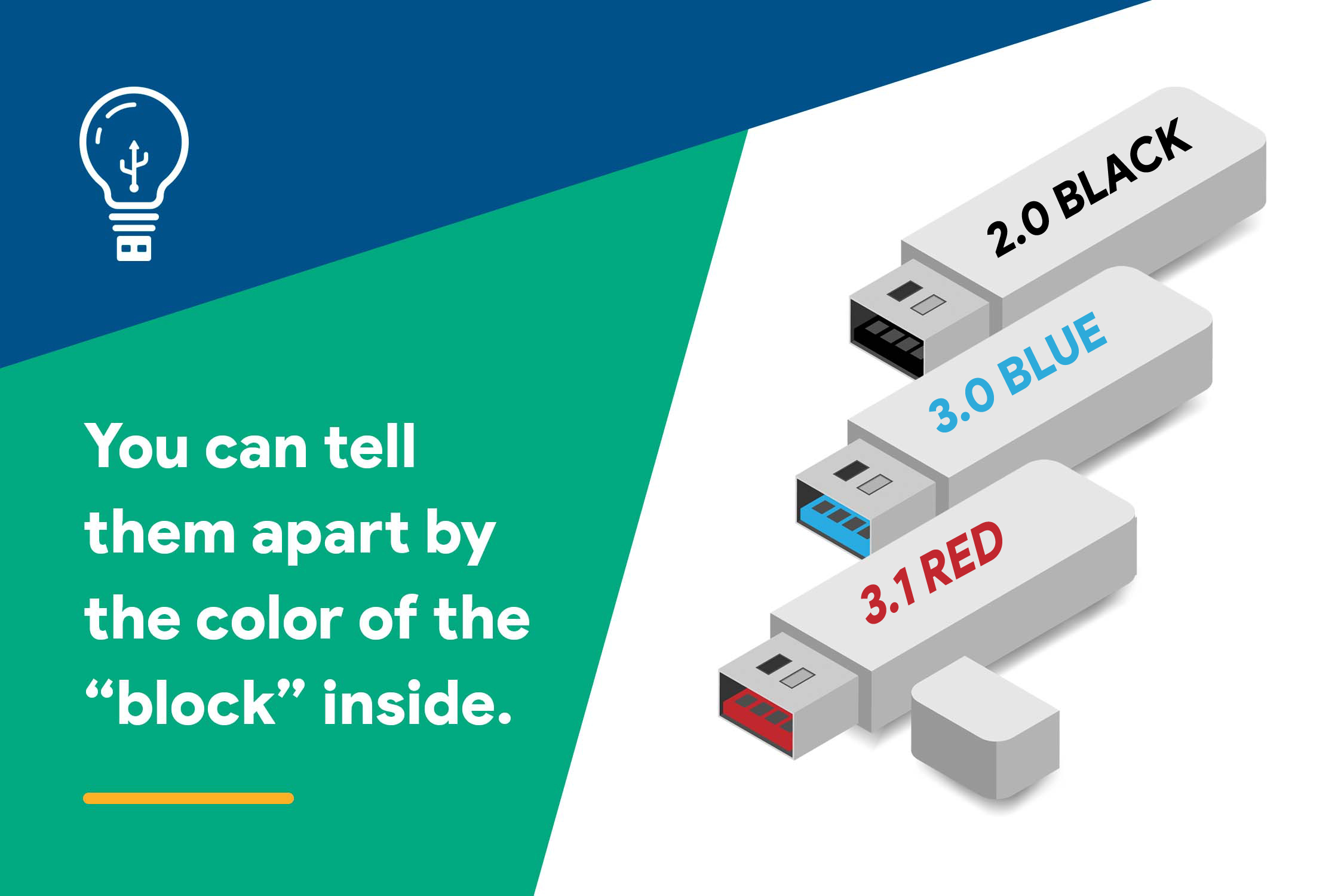 USB 2.0 and 3.0 differ in size, bandwidth, transfer rate and other factors. USB 3.0 has a higher speed and greater power efficiency. USB 3.0 can be used in 2.0 ports but will have 2.0 speed. 2.0 speed is 480 Mbps, and 3.0 speed is 4,800 Mbps, so 10 times faster. USB 3.1 is another 10 times faster than 3.0. While USB 2.0 can only do one thing at a time – either send or receive data – USB 3.0 can do both tasks at once. 3.0 contains more wires than 2.0, which gives the device its superior quality. Another important thing about USB 3.0 is that they have the ability to conserve power when they are connected to a device, so they should last longer.
You can tell the difference between the two visually: 2.0 has a black block inside, and 3.0 has a blue block inside the port. If you see red, it's 3.1. USB 3.0 costs more because it can do more, so it's good to know what you'll be using the drive for to make sure it's a necessary purchase.
CustomUSB has options for USB 3.0 here.
What's the difference between USB and USB-C?
USB drives have the rectangle shape that is recognized, while USB-C are different. They have smaller, flat, more oval-shaped ports and exist to help with faster transfer of data. USB-C can be plugged into other devices like phones as well, so they don't need an adaptor. Here are USB type-C options from CustomUSB.
How can I protect files on my USB?
You can encrypt your files on a USB using built-in features if the USB comes with them, or alternatively you can find these with your operating system or third-party software.
Is there a minimum order quantity?
CustomUSB is relatively unique in that we don't require minimum orders, and we have quick turnaround on shipping if you're on a tight deadline. Order as many or as few as you'd like, all with the lifetime guarantee.

Wrapping Up
Ordering flash drives for business or personal use is always a good idea because USB drives are so usable, durable and last many years, so people can continue to relive personal memories or generate brand impressions, depending on the purpose of the flash drive for you or your company.
Customizing your flash drive is easy with CustomUSB's interface, plus we have a design team that can help. Simply choose your USB type, such as the spin drive, executive pen or other options, and then click on "Customize Now" to upload or use an existing logo, add any other photos or messaging, and choose your desired color(s).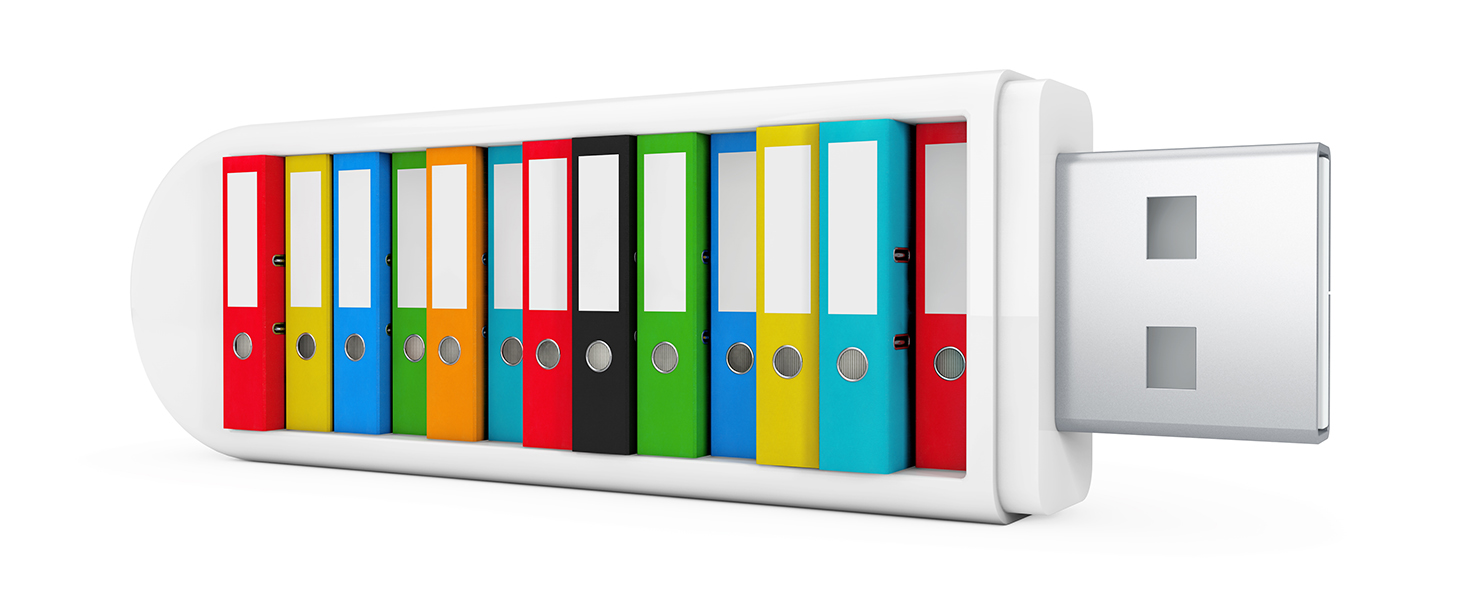 We can pre-load files onto the drive as well, and there's an option in the customization area for you to choose to pre-load files and upload them for us to include on your drive. Make sure to choose a USB gigabyte size that is compatible with the type and amount of files you're including, and to leave some extra room for personal use for the device recipients.
We hope this has been helpful in designing your custom USB drives, and we're always around to help and answer any questions. Just click "Chat Now" and we'll connect you with someone who can help. If you're ready to design your flash drive now, just click on "Customize Now" and try out your logo and design elements on any of our many flash drive options!